Jerry O'Connell To Guest Star On TNT's King & Maxwell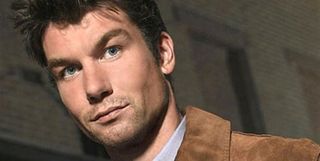 Real-life married couple Jerry O'Connell and Rebecca Romijn aren't opposed to sharing screen time together, which is to the benefit of TNT's upcoming new drama King & Maxwell. Romijn is set to star in the series, and today comes word that O'Connell will appear in a guest role at some point during the show's first season.
King & Maxwell is based on David Baldacci's characters and stars Rebecca Romijn and Jon Tenney as a team of private investigators who are former Secret Service agents and use that experience in their new line of work. Last month, we learned that Army Wives' Catherine Bell had joined the series. And today EW reports that Jerry O'Connell will guest star in an episode of the drama, playing the role of Waskiewicz, " a low-rent D.C. PI who tends to be a step behind on all his cases." To emphasize that point, the site notes that "I don't as questions" is on the man's business card. Not sure that's the most efficient way for a P.I. to get to the bottom of things...
I'm picturing a Vinnie Van Lowe (Veronica Mars) character here, and something tells me O'Connell can pull off the right level of humor if that's the direction the character's meant to take. O'Connell's King & Maxwell episode is set to air in mid-July.
Romijn and O'Connell have worked together in the past. O'Connell, whose recent work includes webseries Burning Love and Bryan Fuller's Mockingbird Lane pilot, appeared in Adult Swim's NTSF: SD: SUV as "Mental Man." He also appeared in another Romijn series, Eastwick. So the two are used to working with one another, which is a plus. It'll be fun to see how they are on screen together - assuming they are on screen together - in the new TNT drama, which premieres next week (June 10).