Is The Late Late Show Making An Early Return To Airwaves?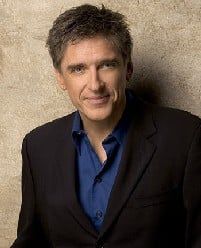 The late night shows were the first victims of the strike, going dark on its first day, Monday, November 5. Since then, there has been much speculation about which show would be the first to return. In '88 it was Johnny Carson who led the way, reluctantly returning to his seat sans writers after a month. Some have said that Letterman, having been on the air the longest will set the tone, while others have said that it will be one of the newer shows that will try to capitalize on the reduced amount of competition. Well, if MySpace is to be believed, Craig Ferguson could be the first host to resume his place at the desk.
Angela Kinsey, who plays Angela, the cat-loving Christian on The Office, posted about a possible upcoming appearance on her blog yesterday, saying "I am supposed to be on the Craig Ferguson Show on Nov. 29th. I think he is improvising the whole show. Should be interesting!" Is Ferguson crossing the picket line? Or is he just overly optimistic? Negotiations between the WGA and the AMPTP are scheduled to resume next Monday, November 26, so it's feasible that the strike could be over in time for Kinsey's scheduled appearance. However, if the contentious nature of the last talks is any indication, it's going to take more than a few days for a deal to be hammered out.
Even the most optimistic guesses have put the late night shows returning in December. In a recent Variety article, it was reported that December 3rd and December 10th have been mentioned by the networks as possible return dates. With Kinsey's appearance scheduled so soon after the negotiations are set to resume, there's a good chance that Ferguson could be returning to the air without his writers right before they reach a deal—which just sounds like it would lead to a lot of awkward chit-chat around the water cooler when the striking scribes do return to work.
For her part, Kinsey has been a vocal supporter of the strike, which makes this decision even stranger. In the same blog post she says, "I am rooting for the writers and I am hopeful this will all be resolved soon. It's weird not going to work everyday and I miss our crew. Our cast is a pretty close group and I have seen a lot of them socially over these past few weeks. I am thankful for the friendships I have made at work. It's a very unique experience and we really are like family."
So, srike or no strike, must the show go on? Or will she be letting her "family" down by appearing? If it does end up happening, Kinsey's episode of The Late Late Show with Craig Ferguson is set to air on CBS, Thursday, November 29 at 12:35 am.
Your Daily Blend of Entertainment News
Your Daily Blend of Entertainment News
Thank you for signing up to CinemaBlend. You will receive a verification email shortly.
There was a problem. Please refresh the page and try again.