Laurence Fishburne Is Done With CSI, Decides To Let TV Criminals Get Away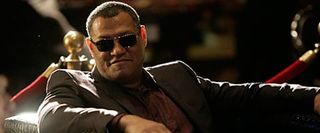 Laurence Fishburne won't be doing any more crime scene investigating. That's right, the crime has been solved. No need to get out the black light and check for blood or, uh, other things, the Emmy winning actor (not for this... no, not for Pee-wee's Playhouse either) decided not to renew his contract and throws in his badge as Dr. Raymond Langston on CBS' one-time number one show (you know, when it was the only CSI... Las Vegas).
The Hollywood Reporter broke the news that the long-time film actor, short time TV actor Fishburne would be calling it quits on the prime time police procedural after just two and a half seasons. THR threw in that "the once-top-rated show has seen its ratings drop since Petersen left, posting its lowest-rated season finale ever last month."
The man may be able to recognize a sinking ship and, not being the original captain (those honors would fall to William Petersen/Gil Grissom who jumped ship those exact two and a half seasons ago... although he did return for a cameo) feels no need to stay while slowly sinking (I want him back on the big-screen anyway, chewing everything up like he, and fellow CSI head-man David Caruso, did in Abel Ferrara's King of New York). I guess, finding a replacement becomes the the next step for CBS before they hit that new Wednesday, 10 p.m. slot this fall.
Your Daily Blend of Entertainment News
Thank you for signing up to CinemaBlend. You will receive a verification email shortly.
There was a problem. Please refresh the page and try again.