Law & Order Gets Ludacris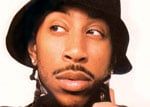 I'm sure Brokeback fans will be upset that Jake Gyllenhaal isn't getting the job, but Ludacris, aka Chris Bridges will guest star on "Law & Order: Special Victims Unit" this Tuesday at 10:00 pm EST.
Ludacris who drew rave reviews for his work in Crash and Hustle and Flow will play the nephew of Ice-T, another rapper turned actor. In the episode, Detective Fin (Ice-T) is faced with a dilemma when his son is charged with a crime. The case unearths a family secret involving Ludacris's character.
No word yet on schedule protests by GLAAD at NBC Headquarters.
Your Daily Blend of Entertainment News
Thank you for signing up to CinemaBlend. You will receive a verification email shortly.
There was a problem. Please refresh the page and try again.