Legend of the Seeker Casting News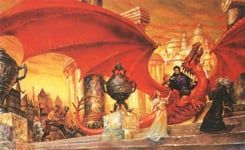 Big news for the Legend of the Seeker fans out there. Well, you probably aren't fans of the series yet, but there are people who are waiting anxiously for this series. Two more characters have been cast, and for at least one of them, nepotism is the name of the game.
A Press Release announced that Ted Raimi (that's the brother of the show's Executive Producer Sam), will be "playing the character of Sebastian, a mapmaker skilled in the lost art of cartogromancy -- the making of enchanted maps. Sebastian, a sly and clever character, once served kings but now he has been reduced to selling his services to bounty hunters."
The second character cast is Michael Cypher, who will be portrayed by David de Lautour ("What I Like About You" and "Xena: Warrior Princess".) You know, I'm glad that they are calling Wizards First Rule, Legend of the Seeker. Calling it by it's proper name, would only anger and irritate the people who have loved Terry Goodkind's fantasy saga. The Sword of Truth series deserves more than a series inspired by it. Mr. Goodkind wove an incredible story, and I'm sure the fans believe it should stand alone.
But, as our fearless leader, Josh, said in an earlier article about the series, "If you're a fan of the books, prepare to be miserable. If you're a fan of Sam Raimi or Xena: Warrior Princess, get ready to relive the syndicated television fantasy magic of the mid-90s."
Your Daily Blend of Entertainment News
Thank you for signing up to CinemaBlend. You will receive a verification email shortly.
There was a problem. Please refresh the page and try again.