Leno's Ratings Streak Starting To Look Conan-esque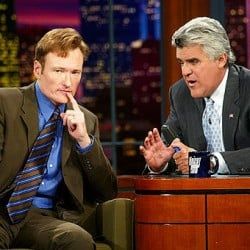 After all the crap they've taken for the way the late night situation was mishandled at NBC, Jeff Zucker and co. can't be all that thrilled with the ratings they're seeing now from their golden boy. TV by the Numbers put together a graph overlaying Jay Leno's performance since returning to 'The Tonight Show' with Conan O'Brien's performance during his short run. The lines are starting to sync up in a very uncomfortable way for the network.
O'Brien understandably started much higher, due to the grandeur of his debut. Regardless, looking at the week-by-week comparison, it's a little surprising to see that by week seven, both hosts were averaging a 1.0 in the 18-49 demo. Considering the big debate about O'Brien was that he couldn't come close to Leno's performance in the slot, it must be awkward that after less than two months, Leno is down where O'Brien was.
Either it's a genuine backlash against what went down at NBC, or people have just moved on. For the record, Letterman has been a bit higher, but synched up with his own performance at week seven as well. As we all know, late night is a marathon, so these numbers aren't necessarily reflective of how things will have settled in a year or so, though they didn't give O'Brien that long.
It's a shame O'Brien is going to TBS, because it's unlikely a show on cable will be able to compete with the late night franchises on CBS and NBC. If, however, he can be within the realm of Leno's numbers, it will be the ultimate vindication for him. Heaven help the Internet if he actually manages to come out ahead (other than the likely huge numbers his debut will bring -- people who want to see how he cuts loose on basic cable).
Your Daily Blend of Entertainment News
Your Daily Blend of Entertainment News
Thank you for signing up to CinemaBlend. You will receive a verification email shortly.
There was a problem. Please refresh the page and try again.