Lifetime's Against The Wall Won't Get A Second Season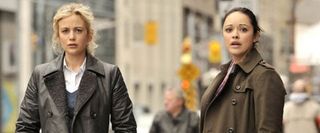 Back in July, Lifetime premiered original cop drama Against The Wall. The show stars Rachel Carpani as female cop Abby Kowalski from a family of police offers who joins internal affairs, much to her family's chagrin. On July 31st, Against The Wall premiered to 1.8 million viewers. At the time, the numbers certainly could have shown improvement. However, Lifetime was pumping a lot of advertisement into its female-led cop drama and with some good reviews following the series premiere, there was hope the program would pick up some viewers as it went on.
Unfortunately, instead of gaining viewers, the show lost a few as it went on. Only 1.5 million viewers showed up for the finale and Against The Wall managed to fall from a .9 rating in the 18-49 demographic to a .4. The coveted 18-49 advertising demographic was probably the cherry toppling the sundae. According to THR, Lifetime has officially canceled Against The Wall.
Brandon Quinn, who plays Richie Kowalski on the show, first broke the news via Twitter on Friday. I'm actually a little surprised it took Lifetime as long as it did to make a decision. Lifetime is pretty heavy hitting with some traditional storyline programming geared towards females and a badass chick working for internal affairs doesn't wholly mesh with that demographic. It's too bad, because if Against The Wall had been given a shot elsewhere, it may have found the audience it deserved.
Your Daily Blend of Entertainment News
Thank you for signing up to CinemaBlend. You will receive a verification email shortly.
There was a problem. Please refresh the page and try again.