Lost's Henry Ian Cusick To Guest On Fringe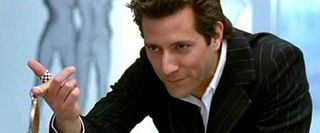 For many fans sad to see the end of Lost a while back, Fringe has become the show that filled the island-shaped hole in their lives. It makes sense: both were creations of J.J. Abrams' Bad Robot productions, both featured a strong core cast that only got better as the series progressed, and both stitched together an elaborate mythology full of unanswered questions. Of course, Fringe has actually answered many of those questions in satisfying ways, and without having to resort to magical holes in the ground, so that arguably gives Fringe the edge. Now Fringe is adding another Lost connection to its collection, with actor Henry Ian Cusick, who played Desmond on the mystical island drama, set to appear in an upcoming episode.
According to TVLine, Cusick will appear in this season's 19th episode, playing an FBI agent assigned to that week's Fringe case. It's not known at this point which universe his character will hail from, but the site speculates that Cusick is likely playing the "alternate universe agent" they reported on previously. The only tidbits provided are that the character possesses "strength and confidence as well as strong comic timing." No word on whether he'll call everyone "brother."
With Cusick set to appear in the 19th episode out of 22 total, it's likely that he could be playing a major role in whatever Fringe's season endgame proves to be. I can't imagine they'd be playing around with a mere "case of the week" that close to the end, especially since this season still might be the very end for the show.
Your Daily Blend of Entertainment News
Thank you for signing up to CinemaBlend. You will receive a verification email shortly.
There was a problem. Please refresh the page and try again.