Have Hope Fringe Fans: Season Five Negotiations Are Under Way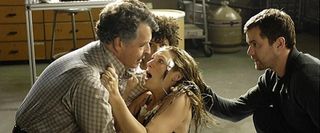 Fringe fans have been waiting for the axe to fall ever since the acknowledgement to TCA press that the show is losing money, and that the current season might well be the last. There are still no promises, but it looks like there is some hope for Fringe after all. Negotiations for Season Five are underway and there are a few reasons to feel good about the show's future.
TVLine sources put the word out today that negotiations are in process to get Warner Bros TV to lower the show's license fee, making it more viable for Fox to renew it for another season. That will help offset some of the money Fox is losing on the show. Co-creator J.J. Abrams responded to the most recent questions about the show's future by saying that "we remain hopeful that Fringe will be able to continue."
Another reason for hope: If the show does get a fifth season that gives it a chance to aim for that magical 100 episode mark, meaning the show has a chance for syndication, which would be good news for Warner Bros. for sure. That might be enough to convince them to lower the license fee and keep the show on the air for one more year.
Showrunners don't plan to make any changes to how season four will play out whether or not a fifth season becomes a reality; the season finale "can function as a series finale" according to Executive producer Jeff Pinkner. That does tell Fringe fans one thing for sure: this season's finale is going to be big.
Your Daily Blend of Entertainment News
Thank you for signing up to CinemaBlend. You will receive a verification email shortly.
There was a problem. Please refresh the page and try again.