MTV Skates With Reality Ryan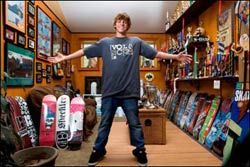 Typically when I think of reality television programing certain words come to mind such as: stupid, unnecessary, drama, cat fights, back stabs and A-holes. There have been so many ridiculous concepts and characters on these programs that it is always a bit of a turn off when a celebrity or anyone for that matter attempts to do a reality show. Whether it's a reality game show like Big Brother or a show filled with brainless twits like The Hills, most of the time viewers are exposed to de moralizing facets of life; and people who behave in such foolish ways that, in my opinion, teach us how to disrespect each other beacause of the foolish concepts of reality we see on these programs.
This time around I have changed my tune. MTV has decided to do a reality show based on the life of Ryan Sheckler, 17 year old professional skateboarder and new teen dream called Life Of Ryan. At first I was a little skeptical, because I have seen how most reality shows like to portray young celebrities and/or rich spoiled teens, but as I read about Sheckler while doing research for this story I came to the conclusion that maybe this time around they are putting someone on TV that can be a positive role model.
Turning pro at 14 Sheckler quickly nabbed some serious victories at such events as Slam City Jams, Triple Crown New Jersey (Holla!), Gravity Games and the X Games. Because of his serious accomplishments it wasn't long before he was pulling in some sweet endorsement deals from companies like Kellogg's and Sony. He has also made time to lend his face on the big screen in the films The Grind and MVP 2.
Surprisingly, despite his increasing popularity, Sheckler seems to have a pretty good head on his shoulders. He is just a regular guy trying to do regular things. He likes to hang out with his friends, watch movies and eat Mac and Cheese. But, with all the fame and the glory come added pressures. Maybe that's why MTV has decided to do a reality show based on his life; to see how the pro-skater can balance his professional career, family life and the role of just being a kid.
The show will document every aspect of Ryan's life. It will create a message that even for the young, famous and handsome that life isn't always perfect but, with the right mentality you can handle all of life's obstacles.
If I'm wrong about Ryan, I blame MTV.
Life of Ryan begins Monday, August 27 at 10:30 p.m. (ET/PT) on MTV,
To find out more about Ryan visit www.ryansheckler.com.
Episodes of Life of Ryan will be available for download to own on iTunes Store (www.iTunes.com), Amazon Unbox (http://unbox.amazon.com), AOL Video (http://video.aol.com) and Walmart Video Downloads the day after each episode airs on linear. Viewers have the option to either purchase single episodes or a season pass, with a discounted price being offered to those who purchase early.
Your Daily Blend of Entertainment News
Thank you for signing up to CinemaBlend. You will receive a verification email shortly.
There was a problem. Please refresh the page and try again.