MTV2 Greenlights Numbnuts Competition Series With Host Jeff Dye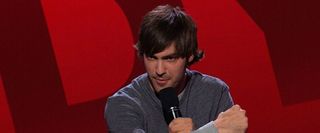 MTV2 is moving forward with a new reality competition show from the people who brought us the gross-out series Fear Factor. The show will pit Internet contestants against a team of "web celebrity" Stunt Masters in an effort to prove who can be the bigger idiot. Hence the incredibly awful and yet somehow appropriate name of the show, Numbnuts. Does it sound familiar? That's because MTV developed a version of the same show back in 2010.
Now, Deadline is reporting the series has been given the go-ahead to premiere this Friday at 10 p.m., right after the Bellator Fighting Championships, which is premiering its seventh season. The original version of Numbnuts featured host Jeff Dye, who is returning to host the new series for MTV2. Yes, that's right, the network is launching the same badly named show, with few noticeable differences, and is apparently hoping for different results.
In each episode, two contestants will be chosen from the web. They will compete against the "three Stunt Masters, " aka Crazy Mike, The Horse, and Victor Lopez. The Internet guys and the stunt guys will then compete to see who can do the same idiotic thing better. Why? Because who doesn't want to see random Internet morons being shown up by people who are out to prove they can do it in an even more spectacularly stupid fashion? Well, me for one, but I supposed it's entirely possible this one will find an audience in the stuck-home-on-a-Friday-night-with nothing-better-to-watch crowd. Except, there is something better to watch. You know, like pretty much anything.
Your Daily Blend of Entertainment News