Mad Men's Final Season Will Be Split In Half, Just Like Breaking Bad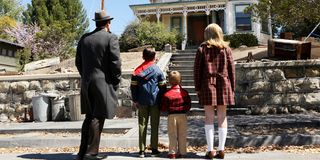 Given the enormous ratings bump that Breaking Bad enjoyed when the second half of its fifth season premiered, it's no surprise that AMC is going to try and repeat the success with their other big, prestigious hit. The network announced today (via The Los Angeles Times) that the final season of Mad Men will air in two halves, the first -- called "The Beginning"-- in the spring of 2014, and the second-- called "The End of an Era"-- in spring 2015. Each half-season will be 7 episodes long, making the situation fairly identical to Breaking Bad, which aired 8 episodes last summer and began airing its final 8 in August.
Creator Matthew Weiner, commenting on the change, apparently chose to ignore the fact that Breaking Bad did it first:
With both Breaking Bad and Mad Men poised to go off the air, and The Walking Dead standing as their only bona fide hit, it was clear that AMC had been in panic mode recently, and the massive ratings jump for Breaking Bad surely started looking like a perfect solution. As viewers continue to reject Low Winter Sun and The Killing slinks away into the ether, AMC is still hunting for their next flagship program-- and extending Mad Men is, at the very least, a stalling tactic to keep them in the good graces of critics and bring them back into the Emmy race each September. Mad Men isn't nearly the ratings juggernaut that The Walking Dead is (2.49 million average viewers compared to the zombie show's 11.42 million average), but it allows AMC to continue calling itself a hub for prestigious TV, and that will mean even more when Breaking Bad is gone.
But can Mad Men keep up the same fan fervor that Breaking Bad did between seasons? I was one of apparently many millions of people who feverishly caught up on Breaking Bad between the first and second half of season 5, after hearing so many friends rave about the show and its tense, masterful plotting. Mad Men, on the other hand, could care less about Breaking Bad style tension and plot twists, and in recent seasons has seem invested in the mercurial Don Draper to its own detriment. I love Mad Men, but I'm a little worn out on the guy, and unless the show makes a drastic change next season-- which is always possible!-- I can only imagine being more worn out by the spring of 2015.
The splitting-the-finale-in-half trend has been happening in movies for years now, starting with Harry Potter and continuing with Twilight and The Hunger Games-- essentially anything with a built-in fan base that will want to eat up every detail. TV shows accrue fan bases just as devoted, and AMC is rightly assuming that the people who have followed Don Draper this far will stick with him for more years, but not more episodes. Even if you're exhausted by the idea like I am, you've basically got no choice but to comply. At the very least, this gives me more time to pitch my Bob Benson spinoff plans. Who's with me?
Staff Writer at CinemaBlend
Your Daily Blend of Entertainment News
Thank you for signing up to CinemaBlend. You will receive a verification email shortly.
There was a problem. Please refresh the page and try again.