Breaking Bad Mid-Season Premiere Scores Big Ratings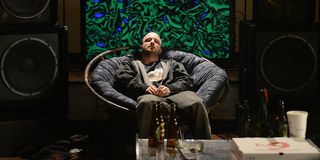 While it's not exactly bringing in the massive numbers that The Walking Dead earned in its most recent season, Breaking Bad certainly has cause to celebrate what's undeniably a ratings win after last Sunday night's mid-season return. The AMC drama brought in 5.9 million viewers for "Blood Money" last night, reportedly doubling its Season 5 premiere numbers last summer.
Deadline reported Breaking Bad's ratings, noting the series high numbers that were twice as high as the Season 5 premiere. Last night's episode felt more like a season premiere than a return for the series, though we're technically just starting the second half of Season 5, which was split into two sets of eight episodes. The first half of the season has already been released on DVD and Blu-ray, and made available on Netflix, which likely allowed new fans of the series the opportunity to get caught up ahead of last night's return. With that in mind, it's easy to see how the numbers would improve so drastically from the first half of the final season.
As mentioned, by comparison to The Walking Dead, which brought in a whopping 12.4 million viewers for its third season finale, Breaking Bad falls short by about half. WIth that said, 5.9 million viewers (3.3 million among adults 25-54, 3.6 million adults 18-49) is still notably high for a cable channel, especially when we consider its competition, which included Dexter on Showtime and True Blood on HBO. Dexter, in particular probably stood a chance of giving Breaking Bad a run for its money, considering it's another dark drama on TV centered on an antihero. It's also worth noting that Dexter doesn't usually air during the summer. I'd be curious to know how well Breaking Bad would have done last night had Dexter not been airing and whether or not the premium cable drama posed any major competition to the series. All we can do is speculate there.
In other news, AMC's new drama Low Winter Sun took in 2.5 million viewers, which is solid for a cable tv premiere, but shrinks noticeably next to Breaking Bad. On one hand, I can understand AMC's decision to debut their new drama behind Breaking Bad, but on the other hand, the Breaking Bad premiere was such a big episode that I doubt I was alone in abandoning my TV viewing immediately after the credits came up to get online and discuss the series with other fans. Others may have done the same, while some may have packed it in at 10:00 p.m., which would account for the drop. Deadline notes that Breaking Bad talk show Talking Bad, which debuted at 11:00 p.m. after Low Winter Sun, brought in 1.2 million viewers.
Watch the preview for next week's Breaking Bad below:
Your Daily Blend of Entertainment News
Thank you for signing up to CinemaBlend. You will receive a verification email shortly.
There was a problem. Please refresh the page and try again.