Matt Smith Has No Plans To Leave Doctor Who, Unless Of Course He Does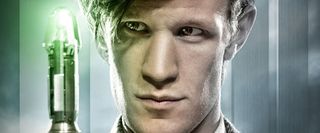 With actress Karen Gillan set to depart the TARDIS and leave Doctor Who during the next season, naturally fans have been wondering whether Matt Smith was still in it for the long haul. It's a question that's come up several times in recent months, most recently back in October when one of Smith's comments was misconstrued and sent some Who fans into panic mode. Now the actor has once again responded to questions about his future on the show with an encouraging commitment to stick with it. Or did he?
As reported by Digital Spy, Smith was grilled on the subject backstage of the National Television Awards and said that he had no plans to leave:
There you have it, question answered, problem solved. Let's break for lunch and then...wait a minute. You say Smith said some other stuff later? Well, I'm sure he probably just reaffirmed all of the above, right? "I've got a year of Who and then I'll take it from there really," Smith said. "I am interested in films, I've always loved the idea and process of films and I am actually interested in directing."
Oh, for the love of...look, Matt, I like you. You seem like a nice guy. You've totally won me over with your portrayal of The Doctor. But you have got to knock this shit off. Fans are skittish creatures. They're easily panicked when it comes to the subject of their favorite shows, and they don't like change. It's entirely likely that your "I've got a year of Who" comment is just referring to how long you're contracted for, and it's entirely possible that you could begin doing some film work without giving up your role as The Doctor. But when you say things like this that are open to interpretation, you're just going to give people heart palpitations.
Unless...wait a minute...are you doing this on purpose? Is this some sort of sick game to you? Oh, you're a devious one, Matt Smith. You're a schemer.
So there you have it, folks. Matt Smith will be playing The Doctor for the foreseeable future. Unless he leaves in a year. Or he's just fucking with us.
Your Daily Blend of Entertainment News
Your Daily Blend of Entertainment News
Thank you for signing up to CinemaBlend. You will receive a verification email shortly.
There was a problem. Please refresh the page and try again.