Matt Smith Returns In 14 New Episodes Of Doctor Who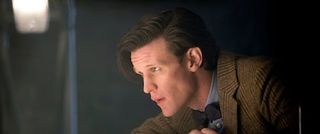 Steven Moffett's reported decision to split the 13 episode 6th series of Doctor Who has been met with frustration, confusion, understanding, and downright idiotic lunacy from die hard fans. BBC has confirmed they've ordered 14 new episodes of the show, with a fair portion to air in 2012. What this means exactly isn't clear yet. But the Eleventh Doctor, Matt Smith, will be sticking around and hopefully keeping Amy Pond by his side.
Doctor Who getting a sizable advance pickup means good things for the current run. Matt Smith's hapless portrayal of the Doctor is endearing, although I still maintain he lacks the gravitas the usually quirky and fun Tenant could bust out when appropriate. The truth is that it's the story that has improved for me with Doctor Who, and that makes me enjoy Smith's take on the Time Lord even more. Allowing Moffett to alter the traditional airing schedule for narrative reasons, along with this episode order, should mean that whatever crazy plans are being toyed with could actually come to fruition in a satisfactory way.
According to The Guardian there was rumor that in 2012 Doctor Who would go to a 90/120 minute episode format with 4 or so airing throughout the year. A number of these types of specials have aired in recent years, so we know what kind of quality to expect if this were to happen. Although these episodes are often fantastic, there's a lack of momentum in the story that you get in a week to week airing schedule.
Personally I'd like for Doctor Who to do its bulk run from September to November, put on the grand Christmas episode, and then do a shorter series in the Spring.
Staff Writer at CinemaBlend.
Your Daily Blend of Entertainment News
Thank you for signing up to CinemaBlend. You will receive a verification email shortly.
There was a problem. Please refresh the page and try again.