Matt Smith Says He's Not Leaving Doctor Who Anytime Soon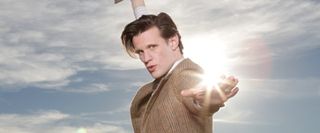 There were rumors aflutter last week that Matt Smith's tenure as the Doctor might come to an end after the next season. Needless to say, this caused much turbulence in the nerd-o-sphere, as Smith has won over even many skeptical fans (such as yours truly) with his performance of the iconic character. The kerfuffle seems to have originated with an interview where Smith responded to a journalist's question about when he might come to America and try to start working over here. His answer included "Well, hopefully soon," and that he had "another year of Doctor Who," but could be easily interpreted in a variety of different ways. Most obviously, just because he has another year of Doctor Who, that doesn't mean he has only another year of Doctor Who. Now another interview with Smith has come out that suggests the actor isn't going to be abandoning the role for a while yet. In fact, they may have to chase him away with a stick.
This update comes via Doctor Who TV, who report on an interview Smith gave to promote the upcoming release of the sixth season DVD. Despite the role involving a strenuous schedule, Smith says he loves the role of the Doctor and doesn't plan on leaving it anytime soon. Smith says, "I feel very lucky. In the current climate for actors, I'd never say, 'This is too much' -- quite the opposite, in fact. I'd say, 'Bring it on'." There you have it. Granted, if he was planning to leave, that's probably exactly the sort of thing he'd say to put us at ease. Unless he knew that we'd know that, in which case he might try to throw us off the trail by--
Ahem. These sort of rumors are always going to fly when you have a popular series with a die-hard fan base and an internet poised to dissect every comment made on the subject, however innocent or misconstrued. Hopefully Smith will be around for a good long while, and it sounds like he intends to be. And if not...well, we'll keep you posted on Doctor casting rumors.
Doctor Who: The Complete Sixth Season hits Blu-ray and DVD on November 22nd. Here's the interview clip that started this whole mess.
Your Daily Blend of Entertainment News
Thank you for signing up to CinemaBlend. You will receive a verification email shortly.
There was a problem. Please refresh the page and try again.