Maura Tierney Aiming For A Return To TV On Rescue Me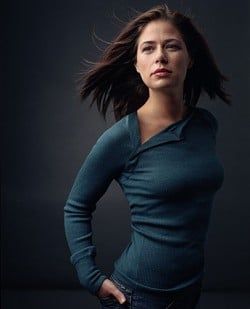 Maura Tierney may have had to drop out of Parenthood due to her ongoing battle with breast cancer -- they found the excellent Lauren Graham as a replacement -- but she is by no means done with acting. We'll join the producers of Rescue Me in anticipating her return to reprise her role as Kelly McPhee. In the fifth season, she debuted as a daredevil lunatic who ran into a burning building for a suitcase.
We later learned what was in there, and it only added to her already established "crazy." Which is why Denis Leary's Tommy Gavin was so absolutely infatuated with, and fascinated by her. She essentially became the "third" woman in his totally screwed up love life, and she brought a fresh new energy to the whole show in the process.
Rescue Me is set to start filming again in 2010, and the producers have said they intend to bring McPhee, and Tierney, back into the fold, according to ContactMusic. "We are just about finished writing the entire sixth season, which is about 10 episodes," said producer Peter Tolan to People.com. "And then there are nine more, so we know we're going to bring back Maura Tierney, because we loved her and she loved us, which is even more fulfilling. She can take care of herself and come back then."
As for Tierney, her spokesperson said she would love to come back on the show if possible. We'll be right there hoping for a full recovery as well, so we can see her not only in Rescue Me, but in many more exciting projects to come.
Your Daily Blend of Entertainment News
Thank you for signing up to CinemaBlend. You will receive a verification email shortly.
There was a problem. Please refresh the page and try again.