McGee Sounds Off On Rescue Me Suicide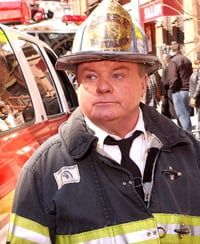 Barely into its new season, FX's 'Rescue Me' is already embroiled in tabloid-worthy behind-the-scenes drama. In an interview with Television Without Pity, recently-offed actor Jack McGee complained about his character's untimely demise and called the show's creator Denis Leary "a bullly" who fired the actor for personal reasons.
McGee's character Jerry Reilly committed suicide in Wednesday's episode, following his reassignment to a desk job within the fire department, his wife's battle with Alzheimer's and his son's gay wedding. McGee argues in the interview that his character, having come to term's with his sons sexuality and dealing with his wife's illness, would have no reason to kill himself; "My own true feeling is, I think the wrong character killed himself," McGee said, referring to Leary's character Tommy Gavin.
Leary is no stranger to hot tempers and controversy-- earlier this month in an interview with NPR's Terry Gross he admitted to threatening a cab driver--and accusations of bullying can only further link him to his deeply flawed character on the show. Still, a beloved character being killed off and then saying it's unjust-- that's harsh. McGee's interview at TWoP indicates some on-set strife that may have been his fault-- he admits to fighting with a costar and bringing uninvited guests onto the set-- so when Leary's side of the story comes out, he may wind up being the hero after all.
Still, though, what's the deal with all the tell-all behind-the-scenes interviews? Remember when we all had to speculate about whether David Schwimmer hated the rest of the cast of 'Friends' or not? What ever happened to the mystery, people?
Your Daily Blend of Entertainment News
Staff Writer at CinemaBlend