The Mentalist Adds Henry Ian Cusick As A Guest Star In Season 5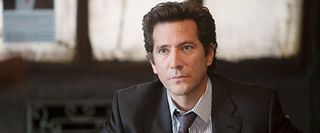 In its four previous seasons, The Mentalist has dealt with criminals from many different backgrounds and with all kinds of different agendas. What the show does not do all that often is introduce potential criminals with multi-episode story arcs. In Season 5, Lost alum Henry Ian Cusick is joining the cast for a special three-episode guest stint that may or may not leave the man with a criminal rap sheet.
Cusick is set to play Tommy Volker, a wealthy dude who, like We Bought a Zoo's Benjamin Mee, is always chasing the next thrill. According to TV Line, after a TV reporter is killed in the show, Volker will find himself a suspect in a murder. The Mentalist doesn't often do murder suspects with a multi-episode arc, but when the show does, it's usually a good sequence of episodes for Patrick Jane (Think Morena Baccarin's short stint as the dating expert-turned-criminal Erica Flynn). Often, Jane likes the recurring guys because they present a more unique challenge to his intellect.
Regardless of whether Cusick's character ends up as a villain or simply a pesky side character, it's nice to see the actor nabbing a three-episode arc so soon after leaving Scandal at the end of Season 1. Hopefully, the upcoming pilot season will treat the veteran TV actor as well as the casting guys on CBS' procedural.
If you are prepped and ready for CBS' The Mentalist to return, you can catch the first Season 5 episode on Sunday, September 30 at 10 p.m. ET.
Your Daily Blend of Entertainment News