Miley Cyrus To Guest Star On Two And A Half Men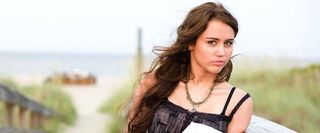 Miley Cyrus is heading back to the small screen, at least for a few episodes. The singer/actress has secured herself a guest-starring role on CBS' Two and a Half Men, playing someone who grabs the attention of one of the titled "men." What's more, she'll be around for several episodes. Spoilers ahead!
E! Online posted the news that Cyrus is set to play a gust role on Two and a Half Men. Part of her story arc will have her playing a new girl in town who "sparks the romantic interest" of Angus T Jones' Jake Harper. The character is described as "sexy" and "rife with comedy." And viewers should expect to see her around for several episodes (at least!). It sounds like a fun part for the former Hannah Montana star to tackle on the popular CBS comedy series.
From the way it's worded, it sounds like the sparks with Jake are only part of Cyrus' role on the show. But there's no mention on what else might be going on with the character. Meanwhile, Cyrus' next feature role has her starring in the action/comedy So Undercover, which follows a private detective who's hired to go undercover at a sorority house.
Two and a Half Men is headed into its tenth season at CBS. The network has the comedy series set to move to Thursday nights this fall, with the Season 10 premiere date set for September 27 at 8:30 p.m., following the return of The Big Bang Theory.
Your Daily Blend of Entertainment News
Thank you for signing up to CinemaBlend. You will receive a verification email shortly.
There was a problem. Please refresh the page and try again.