The Mysteries Of Laura Review: Debra Messing's New Drama Is Not Worth Investigating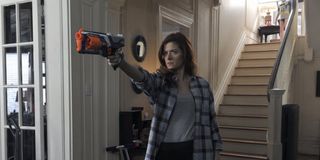 It's that time of year again, when all the networks unveil their hopeful new series and viewers have to wade through a ton of terrible TV in order to find the few hidden gems worthy of the always-shrinking room left on their DVRs. To help with this endeavor, let me offer a a time-and-space-saving measure: don't waste any of either on NBC's The Mysteries of Laura. The mystery of "What will be the worst premiere this fall?" has already been solved.
Based on Carlos Vila and Javier Holgado's Spanish television series Los Misterios de Laura and developed for American audiences by Vila, Holgado and Jeff Rake, The Mysteries of Laura stars Debra Messing as NYPD homicide detective and mother Laura Diamond. Alongside Messing is Josh Lucas as a higher-ranking officer in the NYPD and Laura's soon to be ex-husband - will he ever sign those divorce papers?. Then there's Laz Alonzo as her partner, Janina Gavankar as her bickering co-worker and Max Jenkins as her (possibly gay) investigative aide.
The Mysteries of Laura should probably be called Detective Mom since it's really about how Messing's Laura uses her 'momness' to solve crimes. Seriously, after she saves (or recklessly endangers) a hostage by shooting the criminal, Detective Mom wipes blood from the former's face like it was just a little schmutz. And watching cops shooting first and referring to standard operating procedure as "for douches" is exactly what American audiences need right now.
Don't worry, that's only one of many poorly timed 'jokes' in the pilot episode. We also see a random black woman on the street scream at Laura that she needs to "beat" her two out of control boys, and I'm not even going to touch the bulimia gag. Oy. The awful jokes and atrocious "wannabe screwball comedy" dialogue made me wish The Mysteries of Laura was a sitcom instead of a totally tone-deaf hour-long procedural. It still would have been bad, but at least it would have been over in half the time.
I'm still trying to figure out how NBC thought the obnoxious pilot, shot by the consistently terrible McG, was worth ordering to series since none of it works. The police procedural aspect plays like a farce, draining absolutely any tension from the case of the week and making what should be an emotional resolution ridiculous. And the family side of the show isn't any better with Officer Mom using her position to blackmail teachers into getting her awful kids into another preschool after being expelled.
The product placement was handled really well though. Target gets a name-drop and, since the Mysteries of Laura is a WB produced show, they also snuck in a scene of the boys putting on their Superman and Batman pjs. It's like two minutes of the kids getting dressed, with the superhero logos in close-up. It was one of the more thrilling sequences in the series that's (offensively) being billed as an "authentic look at what it really means to be a 'working mom' today." Really, NBC? You can do better.
Rating:
The pilot was aired as a 'sneak preview' after tonight's season finale of America's Got Talent with the 'series premiere' proper scheduled for next week, on September 24. The Mysteries of Laura will air Wednesdays at 8 p.m. ET on NBC. Developed for American television by Jeff Rake, Carlos Vila and Javier Holgado, the series stars Debra Messing, Josh Lucas, Janina Gavankar, Laz Alonso, Max Jenkins and Enrico Colantoni. Rake also serves as an executive producer with Aaron Kaplan, Greg Berlanti, Todd Lituchy and McG.
Your Daily Blend of Entertainment News
Thank you for signing up to CinemaBlend. You will receive a verification email shortly.
There was a problem. Please refresh the page and try again.