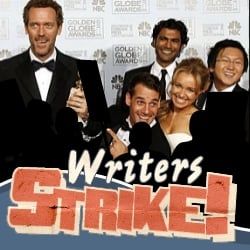 From $20 million to virtually nothing. That's what has happened to NBC's Golden Globe's revenue. Following the forced cancellation of the three-hour broadcast due to WGA and SAG boycotts and dissention within NBC's ranks over the planned replacement news conference, NBC has given up the Golden Globes all together. In a statement released today, The Hollywood Foreign Press announced that they have regained control over the awards show.
The latest and final iteration of Sunday's Golden Globe presentation looks much like the last one, but with a few key differences. Instead of an-hour long news conference that will be aired exclusively on NBC, the HFPA is airing a 30-minute news conference that is open to all media outlets. The conference, which will take place at 9 pm Eastern time, will be telecast from the international ballroom of the Beverly Hilton. Since NBC is no longer involved, the WGA has promised that it will not picket the event, paving the way for some A-list stars to be on hand to help announce the awards.
This is just another example of the WGA rewarding companies that work with them, saying, "We were pleased to give the HFPA assurances that we will not picket nor will we be opposed to a small number of talent helping to announce the winners, because the HFPA has been honorable and respectful and honest with us, unlike many of the other parties involved in this situation." In recent weeks, the guild has struck side deals with Worldwide Pants, United Artists and The Weinstein Company.
While the guild forced the recent People's Choice Awards to be pre-taped with no celebrities in attendance, it allowed The Independent Spirit awards as well as the SAG awards to proceed picket-free. All of these awards shows, however, are minor compared to the big Kahuna airing in February: The Oscars. Scheduled to air the 24th, there's a very real possibility that Hollywood's biggest night could go dark. The WGA has proven that with SAG on its side, it has the power to crush a major awards show. The guild is, in effect, telling the Oscars, "You're next." The question is whether or not Hollywood will listen before it's too late.
Your Daily Blend of Entertainment News
Your Daily Blend of Entertainment News
Thank you for signing up to CinemaBlend. You will receive a verification email shortly.
There was a problem. Please refresh the page and try again.