NBC Orders A Full Season Of Chuck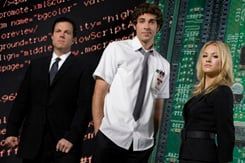 Ya know, every time I hear the name Chuck I want to sing "Chuck-chuck-bo-buck-banana-fana-fo…", oh, never mind. But I seriously do. So, when I read on Hollywood Reporter that Chuck was going to get a full season of shows, I've been batting down the urge to sing all day.
In a move that doesn't happen too often before the season even begins, NBC execs decided they liked the flow of the show so much that it deserved more. "Chuck, which returns at 8 p.m. Sept. 29, had a solid but abbreviated first season because of the writers strike. It's understood that NBC executives have been impressed with what they've seen from the first six episodes of the show's second-season order and decided to hand out an early full-season pickup."
Hooray for Chuck! In all honesty, I've only seen the show twice. Monday is a karate night for my son, so I generally don't sit down to watch TV till after 9pm. I'll have to set the DVR for this one though. If it can impress NBC executives, it's got to be good, right?