NBC Won't Cancel The Playboy Club Or Free Agents Just Yet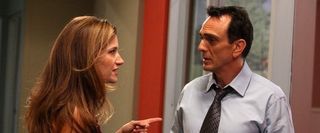 If you're among the few who have been enjoying NBC's Free Agents and/or The Playboy Club, there's some good news, kind of. From the sound of it, NBC is not in any rush to cancel either series, despite the fact that both are underperforming in the ratings.
It's around this time that the rumors of cancellation begin circulating as certain shows, whether they be good or terrible, aren't bringing in viewers. For NBC this year, two of those shows are comedy Free Agents starring Kathryn Hahn and Hank Azaria, and the '60's drama The Playboy Club. According to Deadline, NBC may not be pulling any of their new shows from the primetime lineup this week. As the site notes, Fox's Lonestar and ABC's My Generation were both cancelled after just two episodes last year. Considering Free Agents pulled a 1.0 in the ratings, and The Playboy Club earned a 1.3 this week, rumors were circulating that both series would share the same 2-episode fate.
Apparently, the choice to leave the shows on the air for at least a little while longer is about more than just giving the shows more time to grow an audience.
It's fair to consider that NBC might not want to be a network known to be quick to hit the cancel-button if their series aren't ratings-winners right out of the gate. I'd be curious to know if sending this message is an effort to help NBC stack up against the other major networks, or if network TV is now being considered less of a prize when compared to cable television. Ratings are usually much lower on cable TV, however, at least with cable, there's more of a chance of getting a full season of a show on the air. Given the choice between network TV and cable, some writers might aim for cable, knowing that even if their show never becomes the mega-hit it might have been on network TV, it stands a better chance of at least making it through a full season.
?As for The Playboy Club and Free Agents, while I'm still sticking it out with the comedy series, believing it has potential, I'm among those who have really been enjoying The Playboy Club. I'm also fairly convinced that Monday night at 10 is a death-slot for new NBC series. Hopefully they'll consider moving the show as an alternative to canceling it. It's worth a shot, anyway.
Your Daily Blend of Entertainment News
Thank you for signing up to CinemaBlend. You will receive a verification email shortly.
There was a problem. Please refresh the page and try again.