Netflix Adds A Funny, Blue Easter Egg For Arrested Development Fans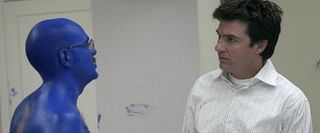 Netflix has come up with some really interesting ways of promoting the return of Arrested Development. The streaming service has taken a different approach to original programming, so it's no surprise that the approach to marketing would be unusual as well, and the latest is just plain brilliant.
Netflix subscribers might think there's something wrong with their screen at first if they search the word "blue" (opens in new tab) at the Netflix website. But the blue handprints and smudges all over the screen aren't a mistake, they're an Easter Egg – a subtle link (opens in new tab) to one of Arrested Development's most famous scenes. Remember those blue smudges all over the walls and everything else that led Michael to the discovery of Tobias painted blue in the opening episodes of Season 2? Those little blue smudges all over Netflix will lead you right to that scene if you click on them, as noted by The Bluth Company blog.
This is not the first fun Arrested Development promo Netflix has inserted into their search. Not long ago they added a bunch of fake spinoff shows to its streaming catalog, all of which served as links to the episodes of the show they reference.
Netflix will be launching the entire new season of Arrested Development on its streaming library in May. So far, they have made good use of their ability to reference the previous episodes of the show through links and Easter Eggs like this one to raise interest in the show. Leaves to me to wonder what else might be hidden on Netflix that leads to Arrested Development.
Your Daily Blend of Entertainment News
Thank you for signing up to CinemaBlend. You will receive a verification email shortly.
There was a problem. Please refresh the page and try again.