Newport Harbor Is Now MTV's Real Orange County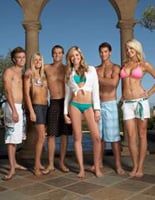 It's the dog days of summer in New York, and pretty much all I want to think about is going to the beach. Perhaps this is what the producers at MTV had in mind when they picked the smack-dab middle of August to debut the fourth season of 'The Real Orange County.' We have to call it that now, since the location has moved from Laguna Beach—the popular name for the show—to Newport Harbor, a town further up the coast of California but just as rich and, probably, obnoxious.
The name Newport Harbor lacks the sunny-California feel of Laguna Beach, but the gist of the show seems mostly the same. An entire new selection of high school students will star in the new season, though some familiar types seem to have made their way in there. The star is Chrissy, a popular senior who has developed a crush on a friend, Clay, of her lifelong friend Grant. Grant, in the meantime, is competing against former friend Chase for the affections of Chase's girlfriend, Taylor—and she's only a sophomore! There's also Allie, who wants Chase back, but wants to travel to Europe against her parents' wishes even more.
MTV has pulled out all the stops online to promote the show, even featuring a "virtual Newport Harbor"—similar to virtual Laguna Beach—where visitors can use avatars to live virtually within the world of the show. The official site already has plenty of bios and videos to keep fans occupied until the August 15 debut. Full episodes, extra video and plenty more will also be available on cell phones once the show starts to air.
It's hard to say how interest in this show will be. 'Laguna Beach' premiered at the height of 'The O.C.' craze, when even high-minded intellectuals admitted they were interested in the soap opera foibles of spoiled California kids. Whether or not people will tune in without LC and Kristen and the like is hard to say. On the other hand, when it's pavement-melting hot outside and even the summer reality TV shows are winding down, who isn't ready for a trip to the beach?
Check out the trailer for the new season here
Your Daily Blend of Entertainment News
Staff Writer at CinemaBlend