Nickelodeon Show Continues To Air, Despite Star's Pregnancy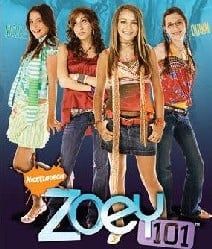 Viewers concerned about the fate of the popular Nickelodeon show, Zoey 101, have nothing to worry about…yet. Yesterday, Zoey's 16-year-old star, Jamie-Lynn Spears announced that she is three months pregnant. While teen pregnancy probably isn't the image with which Nickelodeon would choose to have one of its shows associated, Zoey 101's episodes will air as planned.
According to The Hollywood Reporter , production on the show's fourth season wrapped back in September, with episodes scheduled to air throughout 2008. Since Zoey's fourth season is already supposed to be its last, it doesn't look as though the show's costume designers are going to need to find clever ways to hide a baby bump. Upon hearing the news, Nickelodeon released a statement saying, "We respect Jamie Lynn's decision to take responsibility in this sensitive and personal situation. We know this is a very difficult time for her and her family, and our primary concern right now is for Jamie Lynn's well-being."
Neither Nickelodeon's statement, nor Spears herself has given any indication of where exactly her relationship with the network stands. For her part, Spears said, "I haven't spoken to (Nickelodeon) personally, but they have always been so great to me over the past years and have given me so many opportunities." The parental outrage, or possible lack thereof, regarding the decision to keep Zoey 101 on the air will be a good indicator of whether or not Spears will continue to be a member of the Nickelodeon family once she has one of her own. In any case, it's got to be a sad day in teen-programming when it's a good bet that executives are wishing a Vanessa Hudgens-type nude picture scandal is all their stars gave them to worry about.
Your Daily Blend of Entertainment News
Your Daily Blend of Entertainment News
Thank you for signing up to CinemaBlend. You will receive a verification email shortly.
There was a problem. Please refresh the page and try again.