The Office: 10 Actors Who Crossed Dunder-Mifflin's Path Before They Were Famous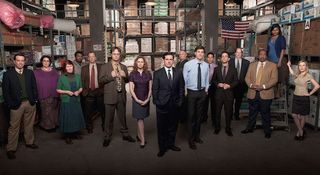 A recent binge-watch of The Office brought to light several great appearances by actors who were either lesser known, or at the very least, on the rise to screen success when they first appeared on the NBC series. In fact, we found ten actors whose paths crossed with the Dunder Mifflin staff before they hit bigger fame with other roles.
To be clear, these aren't guest appearances. With more than 200 episodes aired before The Office wrapped up, the series has seen some great guest spots and cameos in its time. However, this list focuses on actors you may not have recognized at the time of their appearance, but are much better known today.
Amy Adams
Appearance: Season 1, Episode 6 (finale) - "Hot Girl" (first appearance. 2 additional appearances in Season 2)
Role: Katy
With three appearances in The Office, including the titular role in the Season 1 finale, not to mention girlfriend status to one Jim Halpert, there's a good chance you did know Amy Adams was in The Office. But considering her steep rise to fame -- including five Oscar nominations, four of which she earned after her Office appearances -- there's no doubt that Adams deserves a spot on this list. The American Hustle star entered The Office as a purse peddling "hot girl" and exited as Jim's discarded flame during "Booze Cruise."
Kevin McHale
Appearance: Season 4, Episode 6 - "Launch Party"
Role: Delivery Kid
Kevin McHale didn't have a ton of roles before taking on the part of Arty in Fox's Glee, but one of his early small screen appearances was The Office, in which he played a smartass pizza delivery guy from Pizza by Alfredo (where pizza is like a "hot circle of garbage," according to Dunder Mifflin's Kevin Malone). With shaggy hair and an attitude that was about one part stoner and two parts sarcastic, bored, obnoxious teenager, McHale's character allowed himself to be kidnapped by Michael while the pizza problem was sorted out (or eventually dropped).
Wendi McLendon-Covey
Appearance: Season 5, Episode 8 - "Business Trip"
Role: Concierge Marie
Ok, technically McLendon Covey had Reno 911! under her belt by the time she made her one memorable Office appearance, but this was pre-Bridesmaids and pre-Goldbergs, both of which have brought her more of the acclaim she deserves. In The Office, she played the Canadian hotel concierge Marie, who helped Michael find some night-life during his business trip, and then showed him a bit of one-on-one night-life... after which she promptly booted him out of her room.
Evan Peters
Appearance: Season 7, Episode 1 - "Nepotism"
Role: Luke Cooper, Michael's nephew
While building his resume with a role in Kick-Ass, and just a year shy of appearing in the first season of American Horror Story, Evan Peters dropped in at The Office to play Michael's bratty nephew Luke, who was hired on as the worst office assistant ever. You may not remember his attitude, or the fact that he brought people the wrong coffee, but you might remember Michael spanking him in front of everyone before Luke eventually took off, never to be seen again. For reference, Luke's favorite movies were Citizen Kane and Boondocks Saints.
Anna Camp
Appearance: Season 6, Episode 4/5 - Niagara
Role: Penny Beesly
Right around the time she was making us laugh and roll our eyes with her performance as the cheerful, vampire-loathing Sarah Newlin in True Blood, Anna Camp dropped in on a very special double-episode of The Office to play Pam's sister and bridesmaid Penny for the big Beesly-Halpert Niagara Falls wedding extravaganza. The Pitch Perfect star's sense of humor was demonstrated best with the dance moves we saw her showing off on her way down the aisle.
Ken Jeong
Appearance: Season 2, Episode 9 - "E-Mail Surveillance"
Role: Bill, an improv guy
Earlier in his career, before making appearances in Knocked Up, Role Models and eventually, The Hangover, Ken Jeong appeared in The Office as Bill, one of the guys in Michael's improv group. Michael often imagined himself as a detective, but during improv, he was more of a villain, as he continuously pulled an invisible gun on his improv partner. Ken Jeong's Bill was one of his victims, and he was also the one who got to deliver the awkward excuse to Michael when the rest of the improv group went out for drinks after and Michael wasn't invited.
Melissa Rauch
Appearance: Season 6, Episode 2
Role: Cathy Duke, Pam's hospital roommate
Melissa Rauch was already playing Bernadette in The Big Bang Theory when she made her brief appearance on The Office in 2010. Introduced as Cathy, Rauch was wheeled into Pam's hospital room to take the second bed while Jim and Pam settled in as new parents. Rauch's character barely speaks in the episode, but may be most memorable for being the mother of the baby Pam accidentally breast fed late at night, when she was half asleep and thought Cathy's infant was hers. Whoops.
Kyle Bornheimer
Appearance: Season 4, Episode 9 - "Local Ad"
Role: Ad company representative.
Prior to starring roles in a few TV comedies -- Perfect Couples, Romantically Challenged, Worst Week and more recently, Family Tools -- Kyle Bornheimer visited Dunder Mifflin as one of two ad company reps who had the misfortune of being tasked with getting Michael to come up with a creative way to close out the branch's local TV ad. Michael insulted his work and tried to make a bigger task out of the ordeal than necessary, which nearly caused Bornheimer's character to walk, but the ad eventually did get made and we never saw the ad guy again.
Yvette Nicole Brown
Appearance: Season 3, Episode 4 - "The Return"
Role: Paris, Staples Employee
Before she was Shirley Bennett in Community, Yvette Nicole Brown appeared in The Office as Paris, Dwight's new co-worker at Staples, where he took up employment temporarily after a minor scandal at Dunder Mifflin. Brown's character attempted to make smalltalk with Dwight in the Staples break room, but after a very brief, very Dwight conversation, she decided that she didn't like him, his giant head, or his beady little eyes. "That's all I got to say on the matter."
David Mazouz
Appearance: Season 8, Episode 5 - "Spooked"
Role: Bert California, son of James Spader's Robert California
If you've been watching Gotham, you know David Mazouz as Bruce Wayne. Mazouz also played Kiefer Sutherland's son in Touch. In The Office, he's the son of James Spader's boss character Robert California. Mazouz's Bert visits Dunder-Mifflin with his dad on Halloween, and spends much of the episode bonding with Dwight, who eventually convinces Bert to fire Toby as revenge for Toby clipping Dwight's (costume) wings. Seeing Mazouz play James Spader's son with Gotham and Avengers: Age of Ultron in mind conjures some weird ideas about a DC/Marvel mashed up universe where Bruce Wayne is Ultron's son... and also a zombie.
Kelly joined CinemaBlend as a freelance TV news writer in 2006 and went on to serve as the site's TV Editor before moving over to other roles on the site. At present, she's an Assistant Managing Editor who spends much of her time brainstorming and editing feature content on the site.
Your Daily Blend of Entertainment News
Thank you for signing up to CinemaBlend. You will receive a verification email shortly.
There was a problem. Please refresh the page and try again.