Olympic Moments: Amazing Wins For US Skaters And Skiers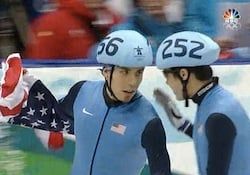 Even though I'm not what you'd call a "sports person" by normal standards, I often find it difficult not to get caught up in the Olympics and it's moments like Apolo Ohno's silver medal win in the 1500m speed skating finals that remind me why I spend hours camped out on the couch watching this stuff.
In case you missed it, American Speed Skater (and former Dancing with the Stars contestant) Apolo Ohno won the silver medal for the 1500m Finals. If you did see the race then you know it was a nail-biter. There were three Korean skaters in the race and as they came down to the final lap, it seemed like we were looking at a sweep. Ohno was blocked out from the top three until Lee Ho-Suk and Sung Si-Bak collided and skidded off into the pads, leaving the path clear for Ohno and his fellow American skater J.R. Celski to take silver and bronze. South Korea's Lee Jung-Su took the gold. Watch it here!
Meanwhile, in other medal news, American skier Hannah Kearney took the gold in the Women's Moguls, knocking Canadian Jennifer Heil into second and fellow American skier Shannon Bahrke into third. Given her less than stellar performance at the Olympics back in 2006, last night was her big comeback.
CLICK HERE to see Kearney win the gold.
Your Daily Blend of Entertainment News
Thank you for signing up to CinemaBlend. You will receive a verification email shortly.
There was a problem. Please refresh the page and try again.