The Onion News Network Is ONN IFC In 2011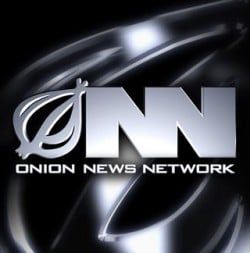 Fans of The Onion newspaper have known for awhile that the website offers even more content than the satirical newspaper (which is only available in select cities). One of their more recent web ventures is the ONN - Onion News Network. Taking itself just as seriously as the print edition, ONN is even funnier by how serious they treat the content.
After three years online, ONN is coming to television in early 2011, according to Examiner.com. IFC has picked up The Onion News Network to continue their expansion into high-brow comedy, joining their lineup already including the likes of Arrested Development, Monty Python's Flying Circus and The Whitest Kids U Know.
I'm not sure how ambitious this new venture is, but I'd love to see it run nightly, as direct competition to late local news in most markets. Much like many college kids turn to Comedy Central's The Daily Show for their news information, the next generation can turn to The Onion News Network. That way we can know that the kids of today will not have a clue as to what's really going on in the world around us, but at least they'll think the world is full of fun and wacky things.
Your Daily Blend of Entertainment News
Your Daily Blend of Entertainment News
Thank you for signing up to CinemaBlend. You will receive a verification email shortly.
There was a problem. Please refresh the page and try again.