Parenthood Season 5: A Look Back And A Look Ahead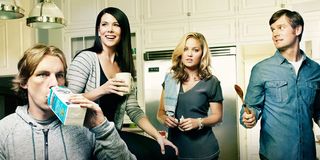 Parenthood has been well-reviewed on NBC throughout its first four seasons. It's also the sort of show that has earned a niche but vital audience of individuals who tune in each week to watch the Braverman clan as they work and play, laugh and cry. The drama is a sentimental one and a tough one, but it never delves into the realm of cheap emotion or corny conversations. When we left off with Parenthood at the end of Season 4, the highs and lows the characters encounter were as prominent as ever.
Season 4 saw the four Braverman siblings all dealing with different issues. During the season, the most prominent plotline dealt with Kristina Braverman facing breast cancer. Her husband, Adam, was just getting a new business off the ground and the couple had a baby in the house, so it was a pretty tumultuous year for that portion of the ensemble cast. Julia and Joel were also dealing with family troubles after adopting an ornery young man who didn't want to abide by the household rules. Sarah, of course, was busy being a single mother all while running her latest relationship straight into the ground. With all of that going on, it's no surprise that Crosby and Jasmine had a decently smooth-sailing season, only having major disagreements after Jasmine's mother chose to move in.
The season was a big one for love, as well, as Amber and Drew both dealt with the highs and lows of young relationships. Drew's story with his on-again off-again girlfriend Amy panned out about as well as most high school relationships, but despite the emotional issues Amber's partner Ryan is dealing with thanks to a stint in the Army, it seems their relationship might be going places in Season 5, at least if NBC's big promo for the new season has anything to say about it.
NBC's spent most of its advertising this fall putting together promotional materials for its new programming, which includes the likes of The Michael J. Fox Show, The Millers and The Blacklist. We do know that the first episode of Season 5, called "It Has To Be Now" will feature a cancer-free Kristina, which should mean the episode is an uplifting one rather than one filled with tragedy. Although I think Monica Potter's performance last year should have at least earned her an Emmy nominee, it's good that she won't be putting in the performance of a lifetime as a dying cancer patient. The show needs her personality too much.
In fact, there seems to be a lot of good things going for Parenthood in Season 5. Amber's busy thinking about wedding bells, Crosby and Jasmine are celebrating getting pregnant, and Hank is back in the early promos for the series, which could prove to be a happy thing for Sarah, but could just as easily be a train wreck for the character. There will also be a few new faces in the new season, with Friday Night Lights actress Jurnee Smollett set to recur, and The Office's David Denman and Lost's Sonya Walger have also taken roles.
The early preview for the new season is chock full of action, but since NBC hasn't been overly boisterous with its Parenthood promotions, it feels to me like this is only the tip of the iceberg for the new season, which should be full of new plotlines, thanks to NBC signing on for a full 22-episode order. You won't have too long to wait to find out. Parenthood premieres on NBC this Thursday at 10 p.m. ET.
Additionally, you can check out some of the preseason cast interviews, below.
Amazing Race & Top Chef superfan with a pinch of Disney fairy dust thrown in. If you've created a rom-com I've probably watched it.
Your Daily Blend of Entertainment News
Thank you for signing up to CinemaBlend. You will receive a verification email shortly.
There was a problem. Please refresh the page and try again.