Paula Abdul Might Sing At Super Bowl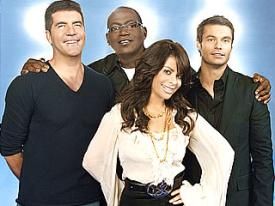 In another example of reality TV's ever-tightening Vulcan death grip on American culture, American Idol judge Paula Abdul is reportedly in talks to perform during Fox's Super Bowl XLII telecast. It also looks like Abdul might be trying to make some kind of big comeback as a recording artist.
TV Guide's Michael Ausiello, who broke the Super Bowl news, also reports that the former pop star, who hasn't released a new album since 1995, is also rehearsing for a new music video to a duet with fellow Idol judge Randy Jackson. The track will be the first single off Jackson's ominously titled Music Club Vol. 1 CD.
Fox announced last month that rocker Tom Petty is already scheduled to headline the Feb. 3 Super Bowl halftime show. Apparently Abdul's possible performance won't be the highlight. That's great news for TV audiences, since Petty is a hugely-popular and talented artist who's worked with greats like Bob Dylan, Roy Orbison and George Harrison. Abdul is a former bubblegum pop singer/dancer who's most notable collaboration was with MC Skat Cat.
Your Daily Blend of Entertainment News
Thank you for signing up to CinemaBlend. You will receive a verification email shortly.
There was a problem. Please refresh the page and try again.