In Plain Sight Preview: Season 3 Premiere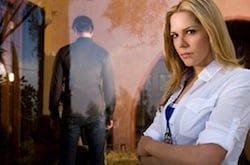 This week, USA is bringing back their original drama series In Plain Sight. We have some clips from the season premiere, including one that features guest star Donnie Wahlberg!
The premise of IPS is fairly simple. The series follows Mary McCormack, a U.S. marshal who works in the witness protection program. Her job is to keep people safe, which can often be fairly tricky and highly dangerous. Like most of USA's other original series, In Plain Sight is the kind of show you can start watching mid-series. I say this because I think it's worth checking out. The show's about 2 parts action/mystery/suspense, 1 part family/relationship-drama and 1 part humor. Great characters and great stand-alone episode stories.
In the season premiere, with the help of her partner Marshall, Mary sets out to figure out who shot her. The episode guest stars Donnie Wahlberg.
Below is USA's description for the series.
In Plain Sight airs Wednesdays on USA Network (10-11 p.m. ET).
Image 1 of 14