This Popular New Comic Book Is Headed To TV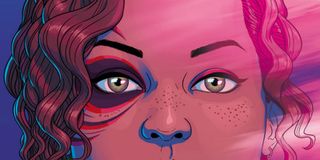 The team behind Young Avengers recently put out a new comic book that grew to be one of the best new series of the year. Image Comics The Wicked + The Divine was launched last year and quickly grew to critical acclaim winning the 2014 British Comic Awards. And now, Universal Television has optioned for the rights to the property to create a new and exciting series.
Writer Kieron Gillen and artist Jamie McKelvie have released 10 single issues since May 2015, and the ongoing series is intended to run between 30 to 60 issues. Now, as Deadline reports the breakout comic book is slated to be produced into a TV series as part of a deal that Uni TV recently inked with with Matt Fraction and Kelly Sue DeConnick's comic book company Milkfed Criminal Masterminds. The two-year deal will adapt a slew of comic books under the company as well as original TV series concepts.
The Wicked + The Divine centers around a group of people with superhuman powers known as "The Pantheon". Every member of The Pantheon was once a normal person who eventually was chosen to merge with the spirit of a specific deity. A few to name include, Lucifer, Minerva, Baal, Inanna, Sakhmet. It is believed that each cycle of The Pantheon can not live past two years from the start of the series. Also, every 90 years, The Pantheon is reincarnated.
The comic book series brings new life to the old mythological characters. Twelve gods are reincarnated to perform miracles similar to superheroes, and often bask in their newfound celebrity fan. The Wicked + The Divine introduces a thirteenth god for the first time, and this thirteenth god is tipping the scale of once balanced scale. Writer Kieron Gillen has previously explained to Image:
Along with plenty of drama and mystery, this action-packed comic is a perfect concept to take the small screen. We'll see if it ends up being picked up by a network, but it promises to be an exciting new take on superhero culture.