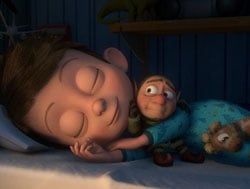 Disney's Prep & Landing is a breath of fresh air for holiday special lovers. Let's all be honest: the old Rankin and Bass animated flicks are a little tired. They're classics for a reason, but for many of us who've watched them for decades they've lost the luster. Prep & Landing follows an elf named Wayne (Dave Foley), who is a part of an elite team of elves that prepares each home for Santa's landing. They are the elves who ensure the milk is cool, the cookies have no nuts, the children are snug in their beds, and the reindeer have a safe place to land.
It's been 227 years on the squad and now Wayne looks forward to his deserved promotion as Director of Naughty List Intelligence, but is passed up for his partner. An elf he trained. So now he's stuck with a new partner in the overly enthusiastic Lanny (Derek Richardson).
As a storm brews over Sector 7, the two elves prepare the house of Timmy for The Big Guy's arrival. But Wayne has become a lump of coal, causing Santa to possibly miss the young boy's house. "Figgy Pudding," Magee (Sarah Chalke) declares as she instructs Santa to move on. But there's more to being a part of Prep and Landing than getting an eventual promotion. Wayne may be tired of the Christmas madness, but the Timmy's of the world aren't.
After watching the half hour special you'll be hard pressed to not consider it an instant Christmas classic. Prep & Landing is cute, funny, and decidedly Disney. "How are we going to make it through all this snow," asks Dancer (at least if going by the classic song, that should be Dancer). "Laughing all the way," comes Dasher's the immediate response. It's those little touches that Disney at its best can do so well. Even the silly things like Thrasher, Dasher's cousin, who flies the Prep and Landing teams around world work within the universe Disney has created.
Prep & Landing
Starring: Dave Foley, Derek Richardson, Sarah Chalke
Premieres: Tuesday, December 8 at 8:30 PM ET/PT on ABC.
Your Daily Blend of Entertainment News
Staff Writer at CinemaBlend.