Primeval Filming Begins On Seasons 4 And 5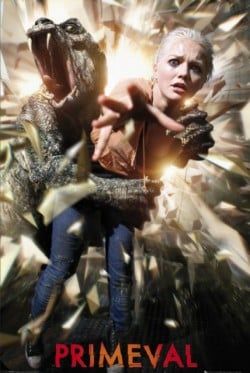 Despite being left hanging in a tree, events for the fourth season of Primeval are rumored to pick up three months after the third season wrapped. It took a special deal between ITV, BBC Worldwide and UKTV to get the pricey series renewed for a fourth and fifth season.
Now comes word that the intention is to film both seasons back-to-back, with filming having begun on March 22, as reported on Sci Fi Pulse. It will continue through early November 2010, though there is no premiere date yet in place for either side of the pond. All of the remaining main characters are expected to return, including Abby (Hannah Spearritt), Connor (Andrew-Lee Potts), Becker (Ben Mansfield) and the enigmatic Lester (Ben Miller).
They'll be joined in the series by Irish actors Ciaran McMenamin and Ruth Kearney, presumably as new members of the task force. Cast rotation has become as common as monster sightings on the show, but it has remained resilient in the ratings throughout. At least fans can rest well knowing that progress is being made on them getting to see new episodes sooner rather than later.
Your Daily Blend of Entertainment News
Your Daily Blend of Entertainment News
Thank you for signing up to CinemaBlend. You will receive a verification email shortly.
There was a problem. Please refresh the page and try again.