Producer Promises Big Changes In Store For Chuck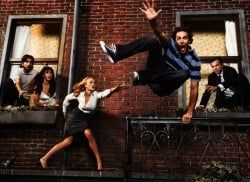 With NBC's Chuck, the writers never seem to know how much longer they have to tell their tale. That could be why next week's episode is set to be a game-changer. The third season order was initially only 13 episodes, so the writers crafted a major change in the dynamics of the show. Now they've got six more episodes to play with.
"We have episode 13, which was originally designed as our season finale," explained executive producer and co-creator Chris Fedak to Sci-Fi Wire, "And like with most television shows, we have a super, epic, game-changing episode 13 this season that essentially changes the show in a really special way." Those last six episodes, which Fedak is dubbing season 3.2 will be "almost like a new show."
Season 3.1 has been about Chuck's rise from a hapless Buy More employee with a government database in his head to being a full-blown spy. Granted, as seen in last week's episode, he had to get a little help from Casey to seal the deal (Chuck couldn't kill). But it's been a harrowing journey for those closest to him, as well as an emotionally trying experience for Sarah.
A love triangle was created with the introduction of Shaw as the new leader of Operation Bartowski, when Shaw and Sarah struck up a romantic relationship. Now that Chuck has earned his stripes, so to speak, what game changer could we be looking at?
The only person among Chuck's closest friends and family who still doesn't know his secret is Ellie. Casey has been reduced to a standard civilian, but there's no way that could stand, is there? Would Chuck perhaps give up the spy game altogether in Episode 13, instead choosing to live a normal live with Sarah?
That could certainly work, as just because Chuck and Sarah would choose to walk away, doesn't mean the Ring would let them; I'm not even sure Gen. Beckman would for that matter. Fedak hinted that Chuck gets a therapist in the 16th episode, played by Christopher Lloyd, and that Scott Bakula will be back as his father.
The title for the final episode of the season: "Chuck vs. the Ring, Part 2." So yeah, some heavy crap is headed Chuck's way no matter what decisions he might make about his own destiny.
Your Daily Blend of Entertainment News
Your Daily Blend of Entertainment News
Thank you for signing up to CinemaBlend. You will receive a verification email shortly.
There was a problem. Please refresh the page and try again.