Rolling Stone Puts Mad Men's Stars On The Cover And Goes Behind The Scenes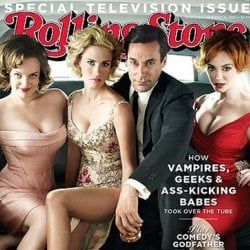 They may not be naked and covered in blood like those True Blood hedonists, but the Mad Men cast is looking plenty sexy on the cover of this week's Rolling Stone. Jon Hamm is on hand to represent the menfolk, while Christina Hendricks, Elisabeth Moss and January Jones are all there, done up in their finest (never say Rolling Stone doesn't know what kind of photos sell magazines). Neither Moss or Jones is dressed exactly like Peggy Olson or Betty Draper would in real life, but don't let anyone say they're not pulling it off anyway.
The accompanying article won't be online until Friday, but a photo gallery featuring 20 behind-the-scenes photos from the show is up and running here. Along with a larger version of the super-glam cover, check out some of my favorite images from the gallery below, and click on them for a link to the full thing. Newly crowned yet again as an Emmy winner and coming off a stellar recent episode, Mad Men seems even more on top of the world now than it was before. A Rolling Stone cover isn't exactly as hip as it used to be, but at least the classy ladies and gents of Sterling Cooper Draper Pryce aren't letting the vampires have all the fun.
Your Daily Blend of Entertainment News
Staff Writer at CinemaBlend