The Sarah Silverman Program Complete Series Coming To DVD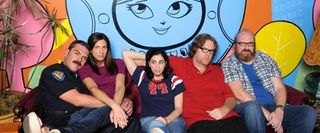 As far as I'm concerned, Shout! Factory officially reached the culmination of its existence this past week with Chris Elliott's announcement that they're working on releasing the full run of Get a Life. You done good, Shout! Factory. Go forth and enjoy your retirement. Of course, Shout! Factory won't take me up on that offer. There are still cult followings to service and little-seen shows to reintroduce into the wild. Such as, for instance, The Sarah Silverman Program, which will be coming to DVD courtesy of Shout! this June.
The Sarah Silverman Program aired from 2007-2010 on Comedy Central, starring Silverman herself alongside Laura Silverman, Brian Posehn, and Steve Agee. Sarah played a character more or less yanked right out of her stand-up, a selfish and tactless unemployed single woman who mooches everything off her sister. Posehn and Agee played her "gaybors" (that's "gay neighbors," if that eluded you). Shout! will release all 32 episodes in a seven-disc set on June 19th, with a list price of $49.97. You will likely be able to find it on sale for cheaper on down the line, but in this case it might be worth it for fans to order direct from Shout! If you order the set from their website, you get a free copy of the Songs of the Sarah Silverman Program CD as a bonus.
The set will also include a decent array of bonus features. Here's the rundown:
A Conversation with the Writers and Producers
Digital and Animated Shorts
Behind-the-Scenes Videos
Audio Commentaries with Cast and Crew
The Cast and Creators at 2007's Comic-Con
The Original Pilot
Audition Videos
And More!
Your Daily Blend of Entertainment News
Your Daily Blend of Entertainment News
Thank you for signing up to CinemaBlend. You will receive a verification email shortly.
There was a problem. Please refresh the page and try again.