Saturday Night Live's Colin Jost To Anchor Weekend Update After Seth Meyers Leaves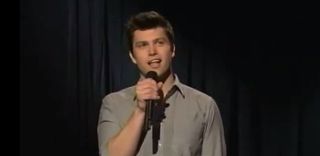 With Seth Meyers poised to exit Saturday Night Live in a matter of weeks, we were left to wonder who would take over the news desk for the "Weekend Update" segments. SNL player Cecily Strong joined Meyers as co-anchor at the start of this season, but there was no word on whether she would handle the duties solo once Meyers left for his NBC late night talk show, or if someone would join her. As it happens, it's the latter. Saturday Night Live head writer Colin Jost is set to take over for Meyers.
NY Times reports that Jost will take over as "Weekend Update" Co-anchor after Seth Meyers departs the long-running sketch comedy series. Meyers' last episode is set for February 1, after which we'll see him again in a matter of weeks when he starts hosting Late Night, beginning February 24. Jost will join Cecily Strong at the news-desk and the two will serve as co-anchors for the current events segment of Saturday Night Live.
Fittingly enough, "Weekend Update" has a history of future late night talk show hosts and head writers hosting the segment, going back to 2000, when Jimmy Fallon and SNL head writer Tina Fey co-anchored the segment. Fallon left in 2004, going on to eventually host his own NBC late night talk show, which led to Fey and Amy Poehler co-hosting the segment until 2006. Fey left the series to develop 30 Rock for NBC and writer Seth Meyers joined Poehler as co-host. When Poehler left in 2008, going on to star in NBC's Parks and Recreation, Meyers hosted the news segment solo up until this season, when he was joined by Cecily Strong.
Looking at that history, it seems like there's a good chance Strong or Jost could end up either starring in their own NBC sitcom or hosting a late night talk show. But that's probably thinking far ahead. Strong's really only just started to come up at SNL over the last year or so, and "Weekend Update" has proven to be a good fit for her. Previously, she was known to frequent the segment as the flaky Girl You Wish You Hadn't Started A Conversation With At A Party, but her anchor persona works even better, so it's good to hear she's apparently sticking around. And it'll be interesting to see how Jost settles into the gig.
Jost doesn't have a long history of on-screen performances from what we can tell, but he does do stand-up, which included an appearance on Late Night. You can watch that segment below. I think he and Strong could prove to be a winning pair, but Meyers will most definitely be missed.
Your Daily Blend of Entertainment News
Thank you for signing up to CinemaBlend. You will receive a verification email shortly.
There was a problem. Please refresh the page and try again.