Scott Mosier And Jim Mahfood Get Animated For Disney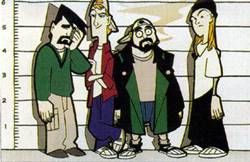 While Kevin Smith's been busy with A Couple of Dicks (or whatever they're calling it this week), best bud and über-producer Scott Mosier hasn't exactly been sitting on his laurels. In the new episode of Smith and Mosier's SModcast podcast, Mosier revealed that he and comic artist Jim Mahfood just pitched and sold an animated kid's show to Disney. The partnership makes sense -- Mahfood got one of his big breaks in the late '90s when Oni Press hired him to draw the Clerks comics.
Mosier didn't reveal any further details about the show since it's early in its development, but did say that he's currently working on the script and would love to direct the show if it does eventually go to series. He's even pondered turning the property into a movie on down the line. As Smith joked, ""Best case scenario, the show becomes SpongeBob."
It wouldn't be Mosier's first foray into animation -- he was an executive producer on the short-lived 2000 Clerks animated series.
Your Daily Blend of Entertainment News