Sean Combs to Guest On It's Always Sunny In Philadelphia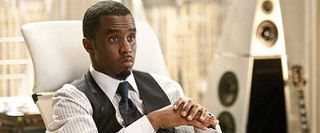 It's Always Sunny In Philadelphia has booked a big name guest star from the hip hop world for a Season 8 appearance. Rapper turned hip hop mogul turned fashion mogul turned actor Sean Combs has been tapped to show up some time in the new season, with details on his appearance being kept a tightly guarded secret.
Combs, aka P. Diddy, aka Puff Daddy, aka Puffy (did I miss any of his many similar pseudonyms there?), has dabbled in acting in the past. He made a two-episode appearance on CSI: Miami back in 2009, and popped up on Hawaii Five-0 for one episode last year. He also appeared in the comedy feature Get Him to the Greek, where he really did pretty well, but the It's Always Sunny guest spot will mark his first acting role in a television comedy. The Hollywood Reporter says Combs will be on set today to start filming for the episode he'll appear in. So far there's no information available as to what kind of role he will be playing or when his episode will air.
Sean Combs is also preparing for another acting role in the upcoming film Shoedog, with Heather Graham and Kris Kristofferson, which is still in the early stages of production. It may well be that conquering the acting world is next in Combs's plan for world domination.
It's Always Sunny in Philadelphia has already been renewed through a ninth season beyond the upcoming eighth. Season 8 is scheduled to premiere on FX on October 11th.