Sean Patrick Thomas Joins The Selection At The CW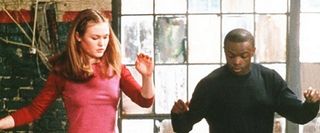 Casting continues over at the CW for The Selection, a project based on a book series by Keira Cass that actually hasn't come out yet, with the addition of Sean Patrick Thomas. The drama set in the future is sort of a Hunger Games, minus the fight to the death part in which contestants are chosen in a lottery to compete for the top spot in the country – the throne of the queen.
The Hollywood Reporter reports that Sean Patrick Thomas will play the role of Sylvan Santos an advisor to the reigning queen who also provides advice to the contestants for the crown. Already cast in the pilot are Ethan Peck and Aimee Teegarden, playing the handsome prince whose hand is the prize, and one of the contestants in chosen in the lottery respectively.
Sean Patrick Thomas, who starred in Save the Last Dance with Julia Stiles, has some TV credits to his name including recent guest spots on Ringer and Army Wives and a role on The District over at CBS. The Selection has Vampire Diaries Elizabeth Craft and Sarah Fain on as writers.
With all of the attention on the upcoming release of the movie based on The Hunger Games, the similarities between the two plots aren't going unnoticed. Can this project play off the popularity of the Suzanne Collins book series or will it fall flat by comparison? Since the book on which it's based hasn't' even been released yet it's hard to make a guess.
Your Daily Blend of Entertainment News
Thank you for signing up to CinemaBlend. You will receive a verification email shortly.
There was a problem. Please refresh the page and try again.