Segal Guest Stars On Private Practice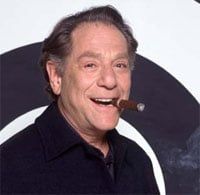 Who's afraid of George Segal? Not the folks at ABC's Private Practice, where the Oscar-nominated actor will guest-star as the grandfather of cute midwife-in-training Del Parker (Chris Lowell).
The episode is currently in production, so it looks like we'll be seeing it yet this season, even with the writer's strike. I'm sure the 73-year-old legend will have something to say about Del's crush on boss Naomi.
Segal's long career in the movie and TV industry dates back to the 1960s, when he starred in such movies as Who's Afraid of Virginia Woolf, Ship of Fools, and The Owl and the Pussycat. On TV, he starred as Jack Gallo in Just Shoot Me! and wasn't too proud to lend his voice to Billy and Mandy's Big Boogey Adventure. Segal soon stars as Mr. Jacobs in the movie Made for Each Other, scheduled for release in 2008.
Your Daily Blend of Entertainment News
Thank you for signing up to CinemaBlend. You will receive a verification email shortly.
There was a problem. Please refresh the page and try again.