New Series Great Lake Warriors Headed To History This Month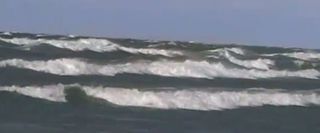 History Channel has worked hard over the last few years to put together an impressive lineup on the network, featuring reality programs running from Pawn Stars and American Pickers to high throttle shows like Top Gear and Top Shot. Most recently, the network has gotten into scripted historical fiction, with the Hatfields & McCoys miniseries earning well over 13 million viewers each night. Now, History wants to branch out into a new area: deadly storms on large bodies of water.
Great Lake Warriors is set to premiere on July 19. The upcoming program will follow Captains and other tugboat operators as they chug around Lake Superior and Lake Michigan in the months nearing winter, where cargo is precious and the stakes are high. If the men make it across the storm-laden waters, a lucrative deal and glory await. However, in waters that have claimed as many as 30,000 lives, the tug business is dangerous indeed. Great Lake Warriors will be produced by History alongside Towers Productions, with Joseph Boyle serving as showrunner and executive producer, and Jonathan Towers, Jim Campbell, George House, Marty Bernstein, and Matthew Ginsburg also set to executive produce.
The new show seems like a direct gander for some of the Discovery Channel's audience, which has aired Deadliest Catch for eight seasons now and whose recent program Deadly Seas has further cemented the network's monopoly on the genre. I have a hard time seeing how drama and disaster on the Great Lakes will entice the same sort of audience as the vaster ocean dramas, but kudos to History for giving the idea a shot.
You can catch the premiere of the 8-part series when it airs on History on July 19 at 10 p.m. ET.
Your Daily Blend of Entertainment News
Your Daily Blend of Entertainment News
Thank you for signing up to CinemaBlend. You will receive a verification email shortly.
There was a problem. Please refresh the page and try again.