New Series Intruders Headed To BBC America In 2014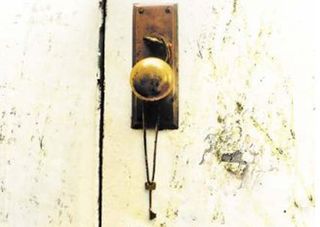 This week, BBC America greenlighted a brand new series called Intruders, a science fiction program that will follow a society that is seeking immortality through very unusual means—inhabiting the bodies of others. Intruders is based on a thriller novel with a science fiction bent that was written by Michael Marshall. The British novelist published the book in 2007, but the BBC America didn't start putting together the project until recently. On Friday, the network announced it will officially be moving forward with a The Intruders TV program. The show will hit the network in 2014 and will be distributed worldwide by BBC International.
If Intruders follows the events in Michael Marshall's book, it follows an ex-cop named Jack Whalen who is asked by a friend to investigate a brutal murder linked to a disappearance. In the novel, Whalen takes on the case and finds himself looking into numerous other disappearances. The press release related to BBC America's new series is pretty vague, so we don't know if the first season of the series will feature the same characters or storylines, but we do know that a secret society will be involved.
There's actually a fairly big name behind BBC America's latest series. Glen Morgan has signed on to write and executive produce the drama. If you don't automatically recognize that name, he's famed for his writing on The X-Files and for dropping out of the failed Bionic Woman series before it hit the air. He has also created A&E's upcoming series, Those Who Kill, a criminal profiling series that is also headed to cable in 2014. With that background, he should be a good fit for Intruders. BBC Worldwide's Jane Tranter and Julie Gardner will executive produce, as well.
BBC America is still trying to build up its original programming lineup. It seemed as if the network had a nice little niche lineup going for it between Copper and Orphan Black. However, last month the network officially opted to cancel its period drama after Season 2 aired. That may have been a bummer for fans, but honestly, Intruders sounds like it could be a better match-up for Orphan Black, which is also a science fiction thriller starring the versatile Tatiana Maslany. Instead of body snatching, that series follows a set of clones trying to figure out the mystery of their existence. BBC America has had success with similar science fiction programming, including imports Doctor Who and In The Flesh.
Intruders isn't expected to hit the network this spring. No doubt by then the show will have figured out how closely it wants to follow the events in the book it is based on. We'll keep you posted as more news about the series breaks.
Amazing Race & Top Chef superfan with a pinch of Disney fairy dust thrown in. If you've created a rom-com I've probably watched it.
Your Daily Blend of Entertainment News
Thank you for signing up to CinemaBlend. You will receive a verification email shortly.
There was a problem. Please refresh the page and try again.