Seth Green To Guest Star On How I Met Your Mother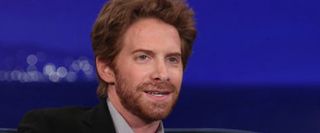 Buffy's Oz and Willow back on screen together. It's kind of happening! And by kind of, I mean we will be seeing Seth Green and Alyson Hannigan back on TV together, as Green is set to guest star in an upcoming episode of CBS' How I Met Your Mother, in which Hannigan stars. From the sound of it, Green's character might not be the most likable guy.
Seth Green as someone unlikable?! Prove it, How I Met Your Mother. Until then, it's hard to picture. I even sort of loved him in his guest appearance as an antagonistic version of himself in Entourage (opens in new tab). Then again, maybe that was because he was so funny, douchy or not. From the sound of it, Green's guest role in How I Met Your Mother will have him playing a weird guy with a fixation on Marshall and Lily. According to the show's Tweet, he's playing a "creep guy named Daryl":
TVLine got some more details on his role, stating that Green's Daryl LaCoutre considered Lily and Marshall his best friends back in college but they barely remember him. Apparently, Daryl still lives in their college town and is "creepily obsessed with having the new parents in his life."
In addition to loving the idea of seeing Green and Hannigan on screen together again, I'm also feeling especially hopeful that the story arc will involve one or two 90s-college flashbacks. That's often the case when something involving Ted, Lily and Marshall's college experience is involved. We'll find out later this season. It sounds like the episode's set to air December 10, though TVLine uses the word "tentatively" so that may not be set in stone just yet.
It's worth noting that Green and Jason Segel both appeared in Can't Hardly Wait, but the bigger connection (especially given how minimal Segel's role was in the 1998 film) is obviously Buffy the Vampire Slayer. Green won't be the first Buffy cast member to appear on How I Met Your Mother (Danny Strong, Tom Lenk and Hannigan's husband Alexis Denisof are among the Buffy cast members to previously guest star), but give how beloved Willow and Oz were as a couple, it's definitely an exciting bit of casting for those of us who loved Whedon's series. On that note, am I the only one who's now also hopeful that Amber Benson will make her way onto HIMYM at some point? Or am I just being greedy now?
Your Daily Blend of Entertainment News
Thank you for signing up to CinemaBlend. You will receive a verification email shortly.
There was a problem. Please refresh the page and try again.