Shameless Renewed For Season 5 Because Nobody Cancels The Gallaghers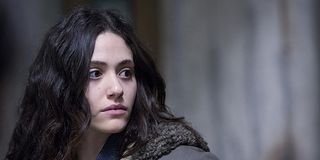 Nobody cancels the Gallaghers! Showtime appears to agree as the premium cable network has picked up Shameless for a fifth season. Along with the Season 5 renewal for the excellent and under appreciated dysfunctional family-centric dramedy, Showtime has also renewed House of Lies for Season 4. Both series join Episodes in being lined up for new seasons in 2015.
Showtime's announcement states that both Shameless and House of Lies were renewed with 12-episode orders, each of which will air in 2015. At present, Shameless is amidst its fourth season, and Showtime says it's bringing in about 5.5 million weekly viewers across platforms. That's up 8% from last season. The series hasn't just raised its numbers, it's also raised its game this season, with one particularly shocking incident taking place in the Gallagher household that's resulted in some legal issues for Fiona and potential health issues for one of her siblings. Last Sunday night's episode dealt with some of the fallout, and we should probably expect to see even more drama among the Gallaghers as a result of a very critical accident. Based on how things started in Season 4, it seemed likely that the series was building toward some major drama. Things were going a bit too well in Fiona's life to last very long.
But facing challenges and rising up from them are what Gallaghers do best, so it'll be interesting to see where the drama goes as the fourth season resumes, and it's great to know the series will be back for another season next year. It really is an underrated series, with an outstanding cast and writing that manages to keep the exploits and challenges of this dysfunctional family and their friends an unpredictable, emotional and entertaining as ever.
As for House of Lies, Showtime doesn't list specific numbers in terms of the comedy's ratings, but the network appears to be on board with the series' current third season to pursue a fourth. Among the guest stars lined up for Season 3 are T.I, Mekhi Phifer, Eliza Coupe and Daniel Stern. They join stars Don Cheadle, Kristen Bell, Ben Schwartz and Josh Lawson in the comedy, which centers on a group of power-hungry consultants.
In other Showtime news, the network announced today that their On Demand app Showtime Anytime is now available on the streaming device/software Roku.
Making these On Demand platforms compatible with devices that make them viewable on TVs is a good thing. The apps are great for mobile devices, but those of us who prefer to watch TV on our televisions are in need of options like Roku and Apple TV to stream the content back to our TV, since some of what's offered on Showtime Anytime, HBO Go and other On Demand premium cable services aren't available through the cable-provided On Demand option. In the case of Showtime Anytime and Roku, this will give Showtime subscribers a way to watch shows like Homeland, Ray Donovan, Masters of Sex, Californication, House of Lies, Dexter and others through their Roku players.
Your Daily Blend of Entertainment News
Thank you for signing up to CinemaBlend. You will receive a verification email shortly.
There was a problem. Please refresh the page and try again.