All Of Kristen Bell's Best Characters, Ranked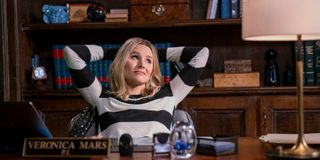 Kristen Bell's acting versatility makes her one of the most recognizable names in movies and TV shows. Her upbeat persona, ability to embody her characters, and her earnest style of acting makes Kristen Bell an actress that we look forward to watching in any project. Whether taking on dramatic or comedic roles, Kristen Bell creates a memorable character.
Bell's signature parts have built her a legacy of great character work. Very few actors can claim that they have created multiple iconic fictional personas, but Kristen Bell falls on that short list of elite actors—and she has achieved this in both the television and film realms.
We ranked the selected films based on Kristen Bell's overall performance, the character's pop culture significance, and the character's overall importance to the TV show or movie. This is not a ranking of her best films but a celebration of her best characters. *This article contains some spoilers about the movies and TV shows mentioned. *
10. Gracie Thompson (Gracie's Choice)
In this 2004 TV movie, Kristen Bell plays sixteen-year-old Gracie Thompson, a teen who wants to become the legal guardian of her younger brothers. Her mother, Rowena (Anne Heche), has a drug addiction that creates an unstable environment for Gracie and her younger siblings. Gracie tries to balance the normal daily problems of a sixteen-year-old, school and relationships, with the life altering responsibility of raising children.
Anne Heche and Kristen Bell both bring passion and sincerity to their performances and this elevates Gracie's Choice to a profound movie about a broken family and a determined teen. Gracie's Choice is one of Bell's first major roles. Her performance as Gracie highlights the potential that eventually grows into a full-fledged Hollywood powerhouse. In Gracie's Choice, Kristen Bell creates a vivid portrait of Gracie's emotional turmoil. Gracie's Choice is available to stream on the free streaming service Tubi. Stream Gracie's Choice HERE.
9. Elle Bishop (Heroes)
Kristen Bell joined the cast of Heroes during the second season. She then had a 13-episode arc from Heroes Season 2 through Season 3. Bell played Elle Bishop, an enhanced human who grew up knowing about her powers. Her father's treatment and quest to understand and harness them turned Elle into a grade-A sociopath.
Bell's role as Elle was her first major TV role after Veronica Mar's cancellation--taking Bell from damaged good girl Veronica Mars to damaged bad girl Elle Bishop. Kristen Bell brought many layers to a character that could have easily been a one-dimensional villain. At any given moment, you found yourself hating Elle and sympathizing with her. Sylar (Zachary Quinto) cut Elle's time on the series short, but Kristen Bell left an electric impression on Heroes fans. A cable subscription and NBC's website -- at least until NBC launches its own streaming service -- gains you access to all four seasons of Heroes and the spinoff series Heroes: Reborn. Stream Heroes HERE.
8. Sarah Marshall (Forgetting Sarah Marshall)
In Forgetting Sarah Marshall, Sarah Marshall (Kristen Bell) dumps her boyfriend Peter Bretter (Jason Segel), so he heads to Hawaii to forget about her, but surprise, she's also on the same resort with her new lover, Aldous Snow (Russell Brand). Peter must watch his ex-girlfriend frolic around Hawaii while also trying to nurse a broken heart. Lucky for him, a beautiful resort employee Rachel (Mila Kunis) occupies his attention.
Forgetting Sarah Marshall allows Kristen Bell to create a self-absorbed actress that also has real moments of sincerity and heart. Bell makes it easy to dislike Sarah, but adds some character depth that makes it also easy to understand some of her behavior. Kristen Bell's performance becomes even stronger because of Forgetting Sarah Marshall's prestige ensemble of comedians that include Bill Hader, Jack McBrayer, Jonah Hill, and Kristen Wiig. Forgetting Sarah Marshall is available to rent or purchase on various streaming platforms, like Amazon Prime Video. Rent or buy Forgetting Sarah Marshall HERE.
7. Gossip Girl (Gossip Girl)
Major spoiler alert if you're just discovering Gossip Girl through a streaming service. Kristen Bell narrates Gossip Girl, a gossip column that Dan Humphrey (Penn Badgley) secretly writes to expose the secrets going on at the Upper East Side.
Kristen Bell isn't technically a character in Gossip Girl, she's just a voice-over, but she delivers the perfect inflections, tone, and vocal character to deliver some snarky, witty, and ominous lines. Kristen Bell narrated Gossip Girl through all six seasons and she plans to send some more xoxo to the Gossip Girl reboot. All six seasons of Gossip Girl are available on Netflix. Stream Gossip Girl HERE.
6. Ingrid De Forest (Parks And Recreation)
Kristen Bell plays Ingrid de Forest in Parks and Recreation Season 6. She appeared in three episodes overall. Parks and Recreation fans will recall that Ingrid was a councilwoman from Eagleton, Pawnee's rival town. The Eagleton citizens are described as being upper-class snobs.
Throughout Parks and Recreation, Eagleton becomes a character of its own with Leslie Knope (Amy Poehler)'s constant disdain for it and its citizens. Ingrid's subtle terribleness completely explains and justifies Leslie's hatred for Eagleton. Ingrid comes off as a snob in a very passive way: she makes her wealth known but acts modest about it. Kristen Bell delivers one of her funniest character portrayals as Ingrid. Netflix has all seven seasons of Parks and Recreation available for your streaming pleasure. Stream Parks and Recreation HERE
Throughout Parks and Recreation, Eagleton becomes a character of its own with Leslie Knope (Amy Poehler)'s constant disdain for it and its citizens. Ingrid's subtle terribleness completely explains and justifies Leslie's hatred for Eagleton. Ingrid comes off as a snob in a very passive way: she makes her wealth known but acts modest about it. Kristen Bell delivers one of her funniest character portrayals as Ingrid. Netflix has all seven seasons of Parks and Recreation available for your streaming pleasure. Stream Parks and Recreation HERE
5. Kiki (The Bad Mom Movies)
In Bad Moms and A Bad Moms Christmas, Kristen Bell, Mila Kunis, and Kathryn Hahn play mothers who decide to stop trying to be perfect moms and just enjoy life again. They get into fun antics along the way.
Kristen Bell gives a standout performance as Kiki. Kiki seems constantly on the brink of a breakdown, while coming off like a Stepford Wife. By the end of Bad Moms, Kiki finally grows a backbone and stands up for herself. In A Bad Moms Christmas, Kiki evolves but still keeps many of the traits that made her so hilarious in the first film. Kristen Bell, we daresay, might be the funniest thing about these movies. Bad Moms and A Bad Moms Christmas are both available to rent or purchase on Amazon Prime. Buy or rent both films HERE and HERE.
4. Jeannie Van Der Hooven (House Of Lies)
House of Lies follows Marty Kaan (Don Cheadle) and his management consultant team, which includes Jeannie (Kristen Bell), Clyde (Ben Schwartz), and Doug (Josh Lawson). The series is about the ruthless practices that the team exhibits to make money and win clients. Jeannie needs to bring extra cunningness to play in the same sandbox as Kaan & Associates and their rival firms.
While creating a sex loving, swear like a sailor, merciless female character, Bell also had to give her vulnerability that would make viewers want to root for her, and especially to root for her to end up with Marty. Don Cheadle is a superb, Academy Award nominated actor, so Bell had to step up her acting abilities to match his talent, and she definitely succeeds in House of Lies. House of Lies not being as family friendly as many of her other projects shows that she isn't afraid to take on any role. All five seasons of House of Lies are available through an Amazon Prime Video subscription. Stream House of Lies HERE.
3. Eleanor Shellstrop (The Good Place)
In The Good Place, Eleanor (Kristen Bell), along with Michael (Ted Danson), Janet (D'Arcy Carden), Tahani (Jameela Jamil), Jason (Manny Jacinto), and Chidi (William Jackson Harper), often have to discover new schemes to protect themselves in the "good place." In later seasons, she must work to ensure that everyone (as in humans in general) stays away from ending up in the bad place.
For four seasons, Kristen Bell created a lovable garbage person with Eleanor on The Good Place. While alive, most of Eleanor's behavior justified her ending up in the bad place. However, in the afterlife, Eleanor has become the best version of herself. Bell often shows Eleanor doing terrible things, but gives such a hilarious performance that you almost don't mind all of the bad things that she's done. Kristen Bell is such a likable actress that characters like Eleanor instantly become more tolerable and charming because of her. Unfortunately, The Good Place ends in 2020 and we'll have to say goodbye to Eleanor and the gang, but Kristen Bell's lovable terrible person will be missed. Stream the first three seasons of The Good Place on Netflix, and catch the most recent episodes of season 4 on Hulu. Stream The Good Place HERE.
2. Princess Anna (The Frozen Movies)
After Frozen, Kristen Bell had everyone uttering the words: "do you want to build a snowman?" The enthusiastic, fun, brave, romantic Princess Anna (Kristen Bell) was a cute companion to her serious sister Elsa (Idina Menzel). Their sisterly bond took them to new heights in both Frozen and Frozen II.
Princess Anna is one of Disney's most likable princesses, because she's so sweet, excitable, and enjoyable to watch. Like with her Gossip Girl narration, Kristen Bell excels at giving the right vocal characterization and tone to bring Anna to life. Frozen is a global sensation and one of the reasons for the film's popularity is the charm of the characters, especially Elsa and Anna. Stream Frozen on Disney+ and catch Frozen II in theaters.
1. Veronica Mars (Veronica Mars)
Kristen Bell played teen P.I. in Veronica Mars from 2004 to 2007, as the title role, this has to be her best character. She revived the character for a 2014 Kickstarter funded movie, and then she returned again for the fourth season of Veronica Mars. Veronica Mars was the P.I that just wouldn't die—but other characters did.
Veronica Mars was the sharp-tongued P.I. who dealt with her best friend being murdered, abandonment from her mother, and a public shame for her family. It makes sense why she closed herself off from the world, but through the course of Veronica Mar's four seasons, we watched her go from a cynical traumatized teen to a less jaded, loving, intelligent adult. Veronica Mars has become a timeless fan favorite character that many people would easily sign-up again for another season, book, or movie in the Veronica Mars world. Stream the Veronica Mars movie and series on Hulu.
See how Kristen Bell concludes one of her memorable characters, Eleanor, when The Good Place returns on January 9 to air the final episodes of the series.
Your Daily Blend of Entertainment News
Spent most of my life in various parts of Illinois, including attending college in Evanston. I have been a life long lover of pop culture, especially television, turned that passion into writing about all things entertainment related. When I'm not writing about pop culture, I can be found channeling Gordon Ramsay by kicking people out the kitchen.