Shameless, House Of Lies And Episodes Series Marathons Set, Beginning This Weekend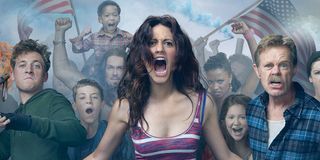 So you've heard all about how amazing-funny-dramatic-unpredictable Showtime's Shameless is and you've been meaning to marathon through the first few seasons to get caught up for the Season 4 premiere? Or maybe you're just looking for a refresher course. Either way, you're in luck! Showtime has a full-series marathon lined up this weekend, beginning with the pilot episode, which airs at noon today. Yeah, no one promised you a whole lot of notice on this. The premium cable channel is also set to marathon House of Lies and Episodes next weekend.
Based on a U.K. series, Shameless stars William H. Macy as patriarch to the Gallaghers, a working class family living in Chicago and more or less run by Frank's eldest daughter Fiona (Emmy Rossum). The series focuses mainly on Fiona's efforts to keep her household functioning, while also trying to maintain a job and whatever semblance of a social and romantic life she can manage. The series gets better and better with each episode, largely due to the fact that the Gallaghers are an incredibly likable family, despite their questionable morals and choices sometimes. In addition to Macy and Rossum, the cast also includes Justin Chatwin, Ethan Cutkowsky, Shanola Hampton and Steve Howey, not to mention the excellent Joan Cusack, one of the Gallaghers' neighbors.
Showtime's schedule has the Shameless marathon set to start at noon today (January 3) and it'll run through Sunday, January 5 (airing from noon to midnight each day).
Season 4 will premiere on Sunday, January 12 at 9:00 p.m. ET/PT. Here's the brief description for the new season:
Also set to return on January 12 are House of Lies and Episodes. House of Lies stars Don Cheadle as Marty Kaan, an elite consultant leading a team of eagerly ambitious consultants, among which is Jeannie (Kristen Bell). Ben Schwartz, Josh Lawson and Dawn Olivieri are also among the cast. The marathon starts at 2:55 p.m. on Saturday, January 11.
As for Season 3, Showtime has it set to air on Sunday, January 12 at 10:00 p.m. Here's the description for the third season:
And finally there's Episodes, which centers on a British couple (Stephen Mangan and Tamsin Greig) trying to acclimate themselves to Hollywood life when they move out there to adapt their BAFTA-winning TV show for U.S. television. Nothing goes as planned. Matt LeBlanc plays himself in the series, and star of show-in-progress. The Episodes marathon will air Friday, January 10 starting at noon, and Season 3 will premiere Sunday, January 12 at 10:30 p.m. Here's what's ahead when Episodes returns: